This is much delayed.

Oh yeah..i'm sure plenty of u use hotlink. If u were unlucky like me and u joined Hotlink Club..then congratulations n celebrations..u r officially a hotlink dump.

The ones who are club members will know..hotlink is the most paria shit ever. They spam u whenever they can. It's like my inbox is my hotmail inbox(if u get wat i mean). All the irrelevant advertisements n promotions.

"So y u still use hotlink?" - u might ask. Well..i actually dowan oso. I first started using hotlink when entering utm. That time utm like jungle(now ok liao la)..my digi everywhere no line..so no choice must switch. Another problem(2 i mean) of switching back to digi now are - (1)all the ppl in ur contacts know u by this no. so wan switch have to inform the world - (2)almost all my contacts uses 012/017..damn! so change then wan call is veli X(espensive in short).

Enough of rants..let's go to photos :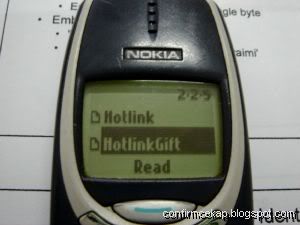 I still use 3310. Got problem issit? I still eating parents rice ok..cannot simply spend.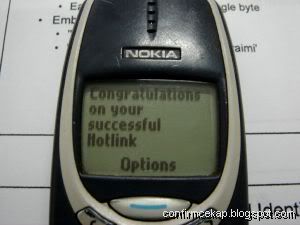 My loyal 3310..served me for 4 years+. Still good as ever.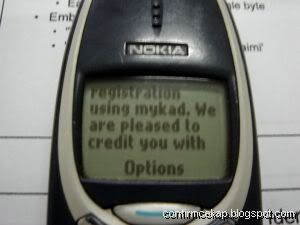 Okla..the battery sucks though. =(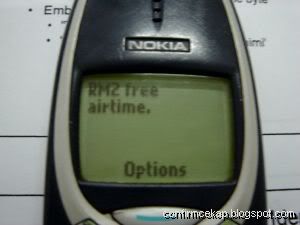 U see..hotlink best. They very generous. Give u rm2 somore! rm2 ok! Let me see wat rm2 can buy. Chicken rice - rm2.50. McD burger - rm3. Haiyor..how la like that.

Come..show u another 1 :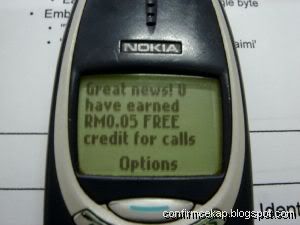 GREAT NEWS! rm0.05!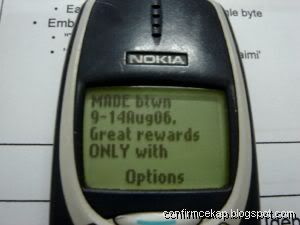 Oklor..hotlink..u win. I respect u.

p/s : Eh..u all know where got sell usb fingerprint reader bor?
2 comments:
1:50 AM
2:37 AM