Small talk : I have my Final Year Project(FYP) Early Presentation on Wed morning. Expect a confirm cekap post in the afternoon k? Guaranteed cekap.

This post is dedicated to Elaine, Vern, Ooi, James, AiLin, and others(u know who u r) who actually cared. Really appreciate it man. Going recover real soon. I can feel it.

This is oso much delayed.

UTM had its 37th Convocation lately. My senior ShueLing and my tailor Kelvin are among the graduates graduating. We went to give our support. Both different day oh. We went Kelvin's first.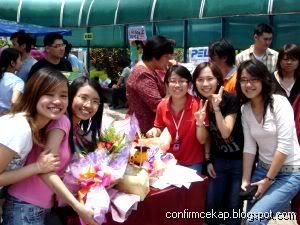 PELTAC's flower selling booth. LeeJun(pink) and MooiMooi(red, first time appear on Confirm Cekap) were among the ppl incharged.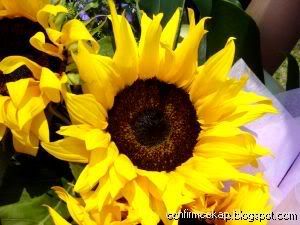 We bought these cekap cekap sunflowers for Kelvin ler. Sun means full of energy ler..so is he.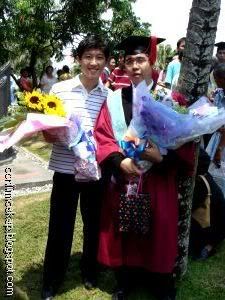 Very suai de Kelvin. Congratulations man!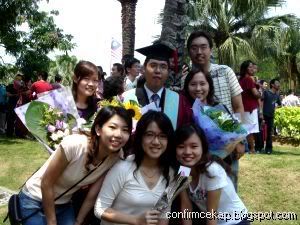 Oso very sweaty btw..hehe.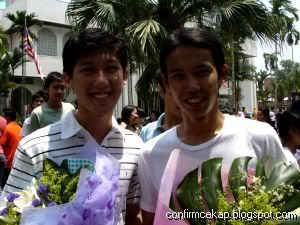 This photo under-exposed leh -__-". Introducing..Kenny(also first time on Confirm Cekap).

Now pula go to my senior kaijie ShueLing.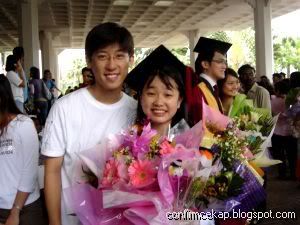 She's like the best senior any1 could have had. Passed down study materials to me, advices, etc. Congratulations kaijie! Gave her roses, forgot take photo of it.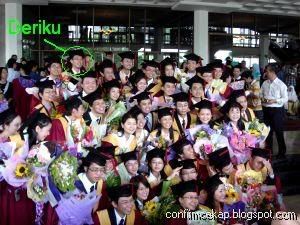 My course SEL entire seniors! 1st time see them all together man. Abit scary..got so many wan.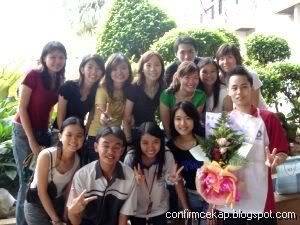 Can camwhore somore..pei fu.

Believe me..if u've studied 5 FUCKING YEARS for an engineering degree..this is the moment u've been waiting for.


HURRAY!

After that can go eat rm2 sushi in Sushi King somore..geng!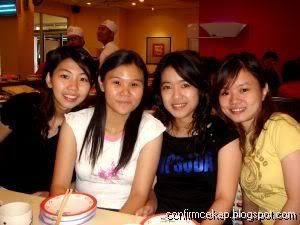 Noneed intro la hor..coz..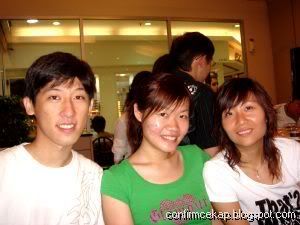 we're Confirm Cekap's most frequent faces ma..hehe.

Regards,
e-quan(Cough, cough. KARK, KARK..PUI! Damn. Still alot of phelgm.)
0 comments: