Small talk : Damn farnie video intro-ed through xiaxue's. Click >>here<<. Not farnie u can tiok me.

Remember when i played futsal for the first time in my life? Now i'm joining a futsal competition leh..STEAM!




See..so pro can? Got schedule sent through e-mail. Somore got rules & regulations. My team B1. Come support okay? At Kolej 15. Bring banners n poms poms if u must. =)

So i had a training session last sunday. The preliminary is this sunday. If i dun have anymore training sessions, this sunday will be my third time playing futsal..wakaka! However, i'm optimistic. We are playing 1-3-1. Lone striker is HockPoh. And we have a world class goal keeper CheeHoa(luas permukaan yg lebih drpd mencukupi). So i think we might be able to make it to the Semis(next sunday). Besides, there're 8 of us n 5 will be playing at a time. Know wat's my position? Answer : Waterboy n Cameraman.

Remember when i participated in a mock interview during the "How to get yourself employed" short course? The evaluation form can take back wan wor. When i saw it..STEAM leh.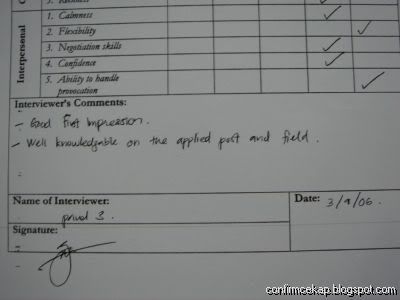 - Good first impression. (aka suai ge!)
- Well knowledgable on the applied post and field. (aka hou lan ying ar!)

What i like most is the "Excellent" on "Ability to handle provocation"..haha.

BUT wat i'm going to show u now is much much more STEAM-er than all the above la.

Remember when i rapped for jay chou? Got ppl comment leh. So nice of her. Observe :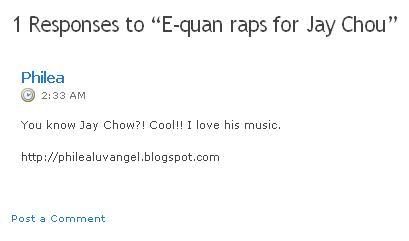 "You know Jay Chow?!" Wah..si beh STEAM.

I wanted to reply her like this..although i didn't la :

"CONFIRM! Jay Chou and I are best of friends. We were actually studying in the same school before his parents got divorced and he moved to Taiwan. In school we used to be in the same band. He was the "Feng Yun Ren Wu" la, playing the basketball, piano, and all. After he moved to Taiwan we still stayed in touch. Whenever he launches a new album he'll send me a copy, asking for my opinions and all. Next time when he's in Malaysia and you're around I'll intro you to him k?

Regards,
E-quan(aka Jay Chou's best friend)"
0 comments: