This is a very long n boring post..plz proceed with caution.

Today..i attended the Conference On Manufacturing & Electronic Technology(COMET). It is a 2-day event. I quote from the book : "The main objective of this conference is to act as a platform for exchange of ideas in the field of manufacturing n electronic technology". Milo ready? Here goes..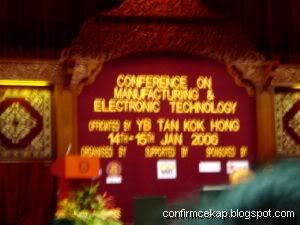 The opening ceremony was held in Dewan Sultan Iskandar, UTM.



There was a multimedia presentation.



The opening ceremony : The YB mounts a SWORD! on a platform n the theme "Unleashing Humans's Potential" is revealed. Remember the fairy tale : The guy who can pull the sword from the rock will become king n ruler of the land. I guessed they got the idea from that.



U get a very nice book which contains speeches, infos, n itenarary for the day. Cekaply done by my housemate, WeeVern.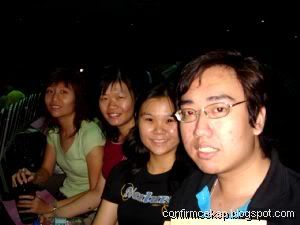 I went with the usual ppl..from my side.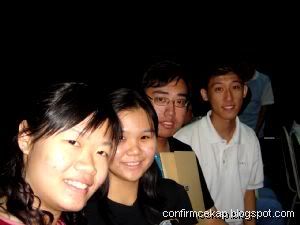 From YeeVoon's side.



This is WeeVern, my housemate. See..being a committee member u get to wear a coat n all. I must say..the guys n girls in the committee really look smart.



I forced my friend YenPin to have this taken with me. Besides getting to wear a coat n all..u get to play with walkie-talkies too! YenPin was saying he'll be scolded by doing this nonsense-in-front-of-alot-of-ppl thingy with me..wahaha!

Some of the posters:



Low CTE Composite Substrate Material to Improve..bla bla..walaueh..wat is this?



Development of Prototype System for Design..(my tongue twisted)..who's Boothroyd-Dewhurst?



(my tongue still entangled)..Double Heterojunction Injection Laser..i'll be damned..wahaha!



Later on..we moved to Dewan Senat where the thesis presentation was held. Actually this COMET thingy is like a thesis-presenting competition.



As it is getting boring-er as time passes..i decided to go to the toilet. There's an artificial tropical rainforest inside the administration building.



Finally..lunch time..hungry betul. We had malay rice n roibo-sponsored drink. The contents of the box is not photogenic..thus i will not show it. The roibo drink without ice tastes like cough syrup. =(
0 comments: