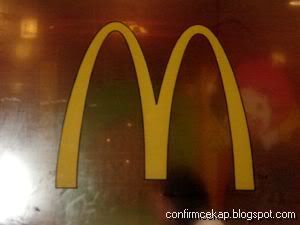 Don't u just love this sign?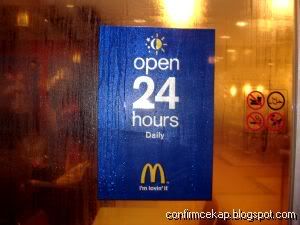 As we all know..McDonald's is earning hell of a money world wide. Now they've decided, "Y dun we open 24hrs so that we could earn every single bit of the poor ppl's money?"

So since tonite(1:15am) was a boring nite(just like any other nite), we've decided to go to this newly opened McD to sit down n crap try to come out with a new-creative-engineering-idea that could rock this world!(giggle)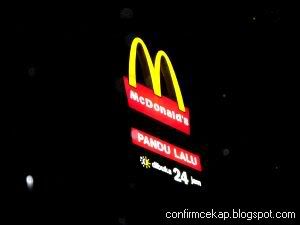 On the way we saw this towering above everything else.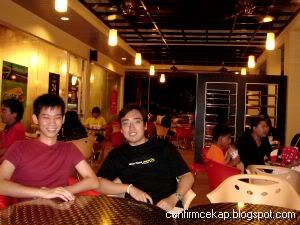 This is such a nice McD. Just look at the interior design..seems like some gou-kap(high class) cafe.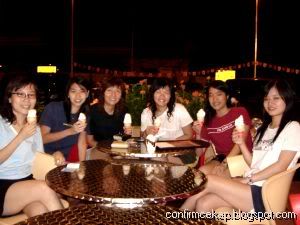 A cone a day keeps bad dreams away. From left : ChinChin, HooiMin aka Irene, YeeVoon, YinTing, MeiYi, Elaine.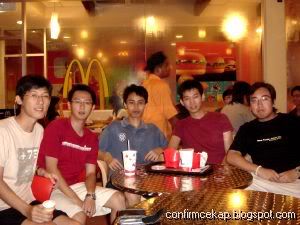 From left : Me, WeeVern, ChunJern, Kaiyeh, SzeLek.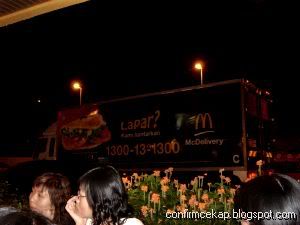 While crapping discussing a technological breakthrough(giggle), this damn huge trailer came. I know wat u're guessing : It's bringing the supplies for tomolo's market right? Sorry, but you is wrong liao. This is a garbage truck wor..WOW! See the advertisemet on the truck? "Lapar?"(Hungry?). Wat it meant was "Lapar? Mari makan Sampah!"(Hungry? Come eat Rubbish!).

Quick fact : McDonald's Corporation is the world's largest chain of fast-food restaurants. The company began in 1948 with a restaurant opened by siblings Dick and Mac McDonald, but it was their introduction of the "Speedee Service System" in 1948 that established the principles of the fast-food restaurant. However, the company today dates its "founding" to the opening of CEO Ray Kroc's first franchised restaurant, the company's ninth, in 1955. McDonald's brand is in 122 countries around the world. Thirty thousand locations serving 51 million customers each day.
Source : wikipedia.org
3 comments:
11:10 PM
11:11 PM
11:11 PM