Arlo once again. Had a nice weekend? Well..i did! We went to this newly opened Jusco in Tebrau City. Since it boasts as the largest jusco in south east asia(i dunno heard who said one ar..if wrong not me)..so sure have to go see see look look.

B4 i start blogging about my trip there..let me express my appreciation to AEON for setting up a confirm cekap shopping mall here in JB. For sure..u r gonna win over all ur competitors..ESPECIALLY City Square! All ur things seems to beat City Square flat..n i like that..killing off ur competitors with style. To City Square : U go die la..charge rm2 an hr for parking n 50cents for toilet..u think u wat..the onli shopping mall in JB izzit? FYI, AEON Tebrau City's parking is currently FOC(will be rm1 per entry soon i think) n yes..the toilet is free too. This is how a shopping mall should be ma. City Square..i await the day u bankrupt k? Maybe AEON will gladly take over u. WOW..that feels good. Okok..let's begin..



Okok..i admit that it's larger than this. My camera couldn't capture the whole building. Sorry ha Elaine.



The invasion of humans!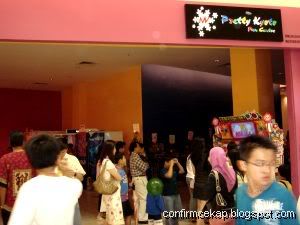 There's an arcade.



There's Red Box KTV.
There's a 10-screen TGV cinema oso..soon to open.



There's an Italian restaurant.



There's oso Lilian Too's famous World of Feng Shui.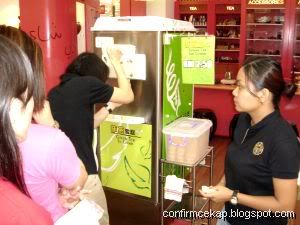 Come on..somore got green tea ice-cream. It can't get better than this.
When i took this photo(cos of the flash)..the lady doing the ice-cream came to me n said, "Here cannot take photo one." See..for u readers i'm doing stupid photos snapping n embarassing me self. Wat's more..i'm gonna give u a fictitious conversation of wat happened :

Ice-cream lady : Here cannot take photo one.
Me : Why leh?
Ice-cream lady : Don't you think taking a picture of me making green tea ice-cream is very obscene? You MUST delete it.
Me : Huh?!? But but..
Ice-cream lady : Show me the photo you've just taken.
Me : Ah ah..okay..nah.
Ice-cream lady : ...
Me : Tell you what..I'll just delete it and get out of here..satistfied?
Ice-cream lady : Wow..THIS is a nice photo..can send to my e-mail?
Me : .......................

Haha..funny rite? Told u i should be involved in advertisements..or better still..movie script writing.

So we went jalan-jalan..teman Elaine go shop shop shop. .after a few hrs "suddenly" me hungry liao. It's time to eat! We went to this hongkong style cha chan teng named "Food & Tea"..walau..so lame punya name..buthen..FULL LIKE HELL!



Hong Kong's famous Yin Yong(coffee+tea) : rm2.80 >> 5-star



Mango Tong Sui : rm4.00 >> 1-star



French Toast : rm3.60 >> 4-star



Roasted Honey Ribs Rice : rm7.90 >> 3-star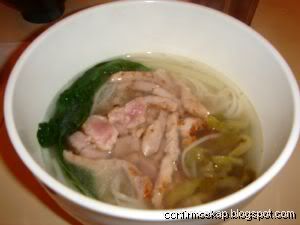 Noodle Soup with Shredded Pork Meat : rm5.90 >> 3-star



Me n Elaine.



Da' gang.



From left : YinTing, YeeVoon, Annie, MeeiFong, Elaine.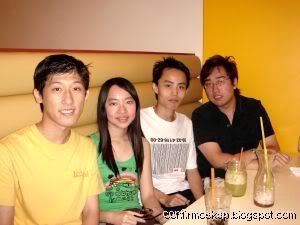 From left : Me, PeiYing, ChunJern, SzeLek.

As it's getting late..we grabbed the things we needed n made a move.



Walaueh..coming in jam..going out oso jam.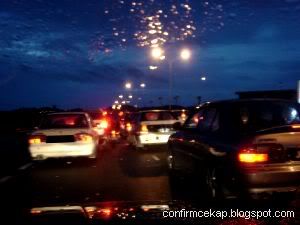 Get out liao still jam?!? Arrghh..



A very not clear night view of AEON Tebrau City from afar.

Wanna convert your height(cm <-> ft) and weight(kg <-> lb) or simply calculate your bmi? Try this. Highly recommended.
3 comments:
4:27 PM
4:37 PM
1:44 AM