Hello my dear readers..sorry for depriving u of cekapness for 3 days..it's my fault..u all can scold me : send hatemails to sueihuey@hotmail.com. She's in charge of department of complaints now..hehe..thx ha SueiHuey..i owe u 1.

Today i wan to fen xiang(share) with u all one confirm cekap song..i sincerely hope that SONY-BMG doesn't sue me. I personally edited this song very professionally with Cakewalk Home Studio. The quality of thing song however..is low becoz..i dun have the money to start yiquan.com to host big files i wanna make it small in size n easily downloadable. So wat is this song that i'm blah-ing about?

Ok..as u all might know..i'm the #1 fan of Jay Chou aka greatest singer/composer in the world. Last year, in his album "November's Chopin"..there was a Pepsi featured song called "蓝色风暴"(BlueStorm). Yes yes..this is the song where u can hear phone-dialing sound in the background.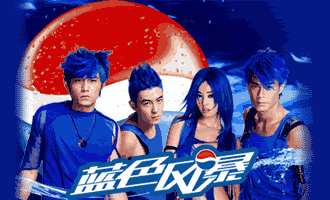 Okok..then hor..u all know the Jet-Li movie "霍元甲"(Fearless) which is coming out this year anot? Jay Chou oso wrote/sang the theme song for this movie. This song is still very new..u can listen to it now on radio.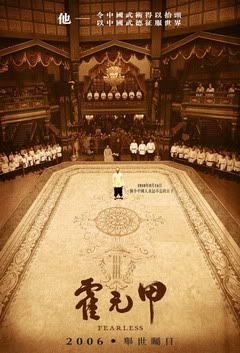 Okokok..so wat's the connection between these 2 songs? Well..u know..there has always been rumours that Jay is running out of ideas in composing songs..copying other ppl's songs..blah blah. That is so true NOT TRUE. ACTUALLY, wat he's doing is : He wants his avid fans to really listen to every detail of his songs..he's putting secrets in his songs n he wants to know if anybody would find out.

"HUH? WHAT THE HECK ARE YOU TALKING ABOUT?!?". Okok..noneed to shout..i can hear ur confusion. Actually..i think i'm the 1st in this world..to know about this little secret : Jay wants his fans to >> Combine "蓝色风暴"(BlueStorm) & "霍元甲"(Fearless) n listen it together as ONE song! Walaueh..i'm brilliant!

Eh..dun pandang slack at me leh..u dun believe issit? Nah..go my personal site >>here<<, scroll to the bottom, and download this : BlueStorm vs Fearless(1.33MB). It contains the followings :
1.lansefengbao.mp3 (BlueStorm)
2.huoyuanjia.mp3 (Fearless)
3.combination.mp3
These r onli short excerpts of the real songs..the file "3.combination.mp3" was edited by me lor. U listen n see..listen in accordance to 1>2>3. I dun believe u will not enjoy it. If u didn't..u know wat to do..(department of complaints). If u've enjoyed it though..u will c the brilliance of Jay once again..tada!

p/s #1 : the password to unzip jaychou.zip is confirmcekap.blogspot.com
p/s #2 : if u think it's brilliant! kindly leave a comment.
3 comments:
11:45 AM
12:50 PM
10:47 PM