Updated on 24/1/07 at 5:41am : Hey guys, forgot tell. Our SEL NITE 07 accounts still got baki rm30.00. So if anybody wan do more SEL activities, for eg., do SEL Booklet(need photostate ma)..can take money from me. Cheers!

Small talk : Got one cengkerik in my bathroom. Damn bising. Now i'm having the feel i'm in a tropical jungle. =P

Hi all. I think i'll end the SEL NITE 07 posts for good. This is the last one. Much memories have been shared here, here, here, and here. You guys wouldn't want any repetition rite? Besides, me oso malas.

Only just now that i've finished packaging the SEL NITE 07 LIVE cds. That puts an official end to the whole thing coz that was the LAST thing that was supposed to be completed. Thinking back, the WHOLE THING was really fascinating, enchanting, and most importantly..unforgettable(albeit quite tiring as part of the organizing committee). This post i wan share with u all y i think SEL NITE 07 damn got standard..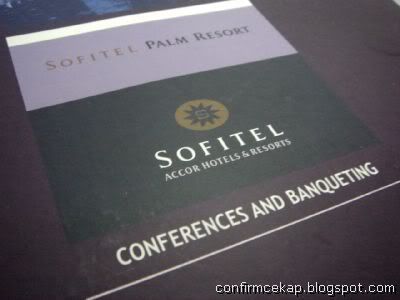 It was held in a 5-star hotel.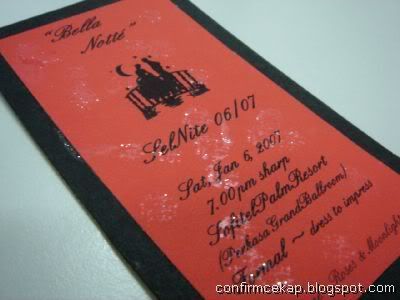 Got official ticket.
Thanks SueiHuey.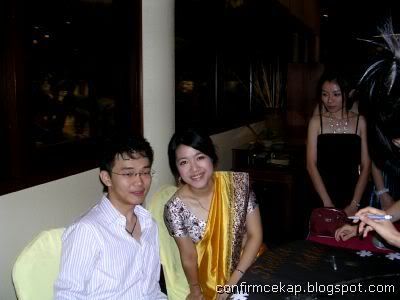 Got reception desk and suai ge(HockPoh) + mei nv(MeiYi) receptionists.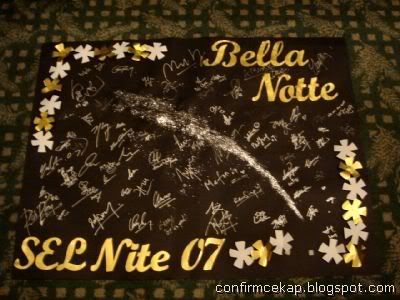 Somore got the wedding signature thingy.
Thanks HockPoh + MeiYi.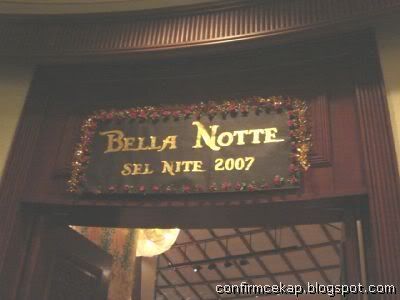 The entrance there oso got deco.
Thanks SueiHuey, KaiYeh, YeeChong, YewFatt, and CheeAng.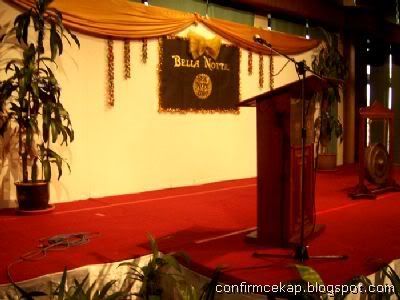 Got confirm cekap backdrop(SueiHuey again), lectern(not to be confused with rostrum), and Gong.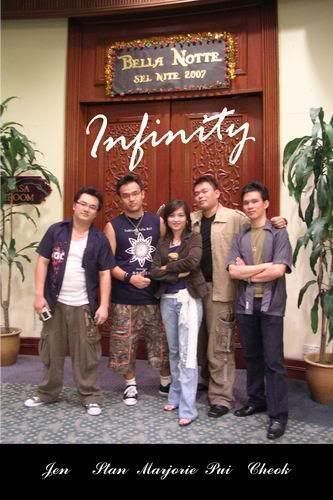 Got live band. Infinity ROX! Marjorie phewit!!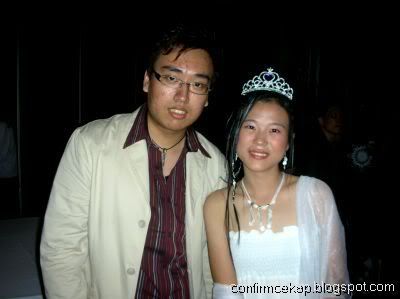 Got crown somore can? Congrats to PohPeng, Best Dress winner!
Thanks LihHuey.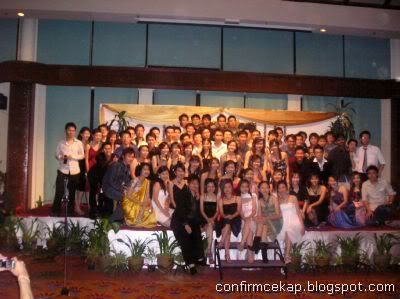 Most importantly got superb participants.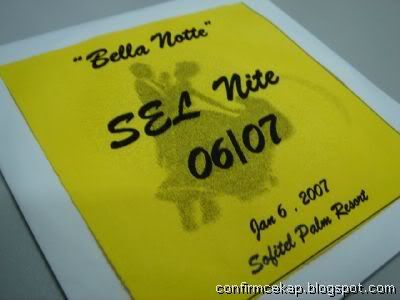 Got a photo-compilation CD of our 5 years life here.
Thanks IanCing, MeiYi, and SzeLek.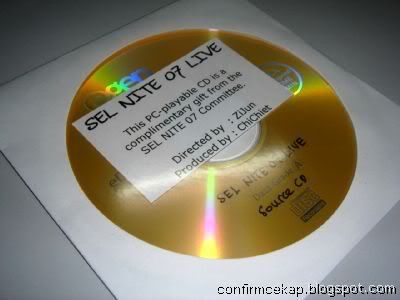 In the end got a video of that nite's events. Means that nite got cameraman!
Thanks ZiJun, ChiChiet, HooiMin, WeiAng, CheeSon, SzeLek, and Annie.

Take care n all the best guys!
4 comments:
10:14 AM
9:01 PM
5:49 AM
12:57 AM