Small talk : Wah..cukup-cukup 1 week din blog ar. Got miss me bor? My new CNY layout nice rite? I is very like ler. Then elaine criticise again..damn yim chim. =P

Hey all..2 days ago baru went to watch Death Note 2 : The Last Name. For me it's sienz but that's my personal opinion..noneed agree or disagree k. If not for the popcorn throwing in the cinema then really dull liao..wakaka. The story is cekap wan..buthen hor..like alot things need deliver..then pull the movie to 2hrs 20mins ler. I felt should do Death Note 2 n Death Note 3 ma..hao shi chen 3.

Then i is tak pernah see take photo till so kaulat in a cinema wan("pura-pura" tak nampak the 'No Photography' sign). Now share abit 1st..later i get all the photos then onli blog about the event. I won't forget ur photo..Ean jie. =)



Okok..tengok my face. Focus on my eyes.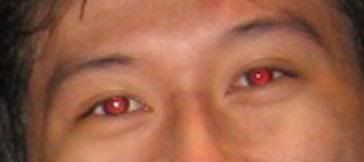 Shinigami no me (死神の目) okay..dun pray pray. I very fren with the Ryuk, he give me free wan..no half life half life all.

Then i felt the most cekap phrase spoken in the movie was..



Rem : "You must be crazy to want the god of death dead."
Wakaka..death god so sentimental wan meh?

Ma eh..digressed so much. I'm suppose to blog about the Kite-Flying session that is much MUCH delayed leh. U know la..like i said, after SEL NITE all SEL members ki siao..damn semangat organize programmes. On a nice evening, we went up Balai Cerapan to fong ji yiu.



4 years ago i see is like this. Now oso like this.



Elaine n I.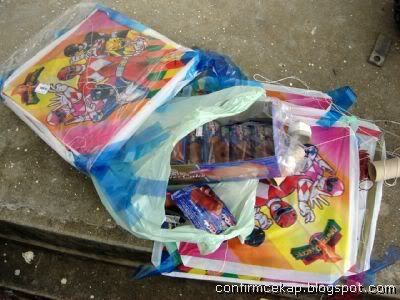 GO GO POWER RANGERS!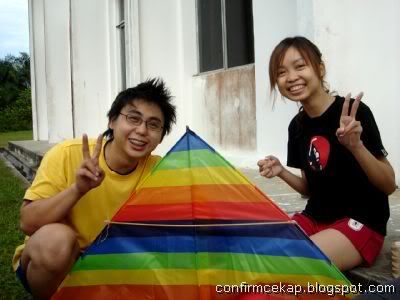 Then YeeChong n YuJia(wakaka..Catherine's chinese name. YuJia = Yoga. WAKAKAKA..okok..dun whack me) brought their own kite ler..so pro wan.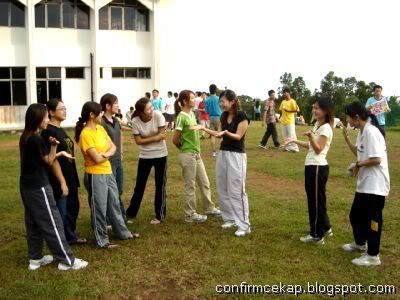 YeeVoon : Huh? Really meh. A female pig can go up a tree meh?
YinTing : Serious wan. If guys can be reliable..then female pig really can do it wan.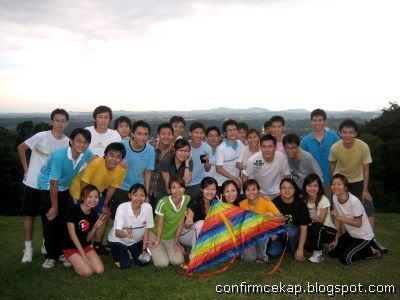 SEL strong leh. Next event is wat pula? Pua kiao?

Share with u all the lyrics of the chorus part of the main theme of "Dou Chiong Fung Wan"..

先赌为快 - 李克勤
人生太短 出手要更大
旁观者不需理解
赢得风光 豪得精彩
自己偏偏感觉失败
自尊心都可以出卖
忘记我也是无坏
连幸福都输掉醉在长街
依然是我最大

Haha..damn bersempena with Chinese New Year rite? Gamble gamble!!!

P/s : Due to "no wind" that day..we tak berjaya fly the kites ler. Paling cekap oso is KaiYeh liao..keep the kite in the air for more than 10mins. Respect. U know la..we city kids all..play Kite-Simulator in PC(if there's such a thing..hehe) maybe pro la..real kites wor..can keep skin.
2 comments:
3:06 AM
2:26 PM