"Hari ni dah hari terakhir dah(Today's my last day).", i said to everyone who sees me with curious eyes over my normal-working-long-sleeve-shirt instead of the usual uniform.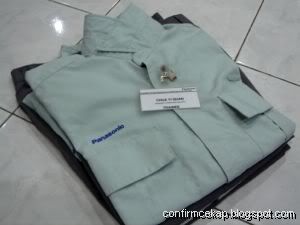 Even the name tag oso must return can?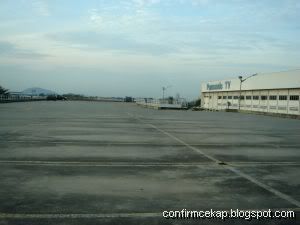 Becoz of my reach-on-time nature..there's onli places for me to park on the roof.



Even the sports complex looks awesomely awesome this morning.

I was totally excited on the first day and the last day of work..and totally miserable in between. The people that i met were great and they took good care of me..but the work that i'm doing..(sienz-to-the-max).

BUT..

Today was totally confirmly cekapz. Bid farewell n said thanks to all the people there(ppl urging me to come back after i graduate). I can't believe i'm actually feeling sad and missing that place(and quan sheds a drop of tear). My colleagues even belanja-ed me lunch outside(normally we're compulsary to eat in canteen..no going out).

COME TO THINK OF IT..

It wasn't THAT bad afterall.

Becoz of the nature of the company that doesn't allow photography in their premises..i shall on the other hand present u a video on the exterior of the company that i'm working with.

WARNING : This video takes quite a long time to load. AND it contains my voice as the narrator(first time on the internet and blogosphere). MY VOICE(period). Plz STOP the video at once when my first sentence oredi irritated u(like what happened to me when i heard it)..becoz it might cause countless sleepless nites or nitemares. Remember..you've first heard it at http://confirmcekap.blogspot.com.


2 comments:
11:05 PM
1:25 AM