Do u guys watch 'One In A Million'?

I watched my first full episode yesternite n WOW..the quality's better than 'Malaysian Idol'..at least i think so. My favourites are :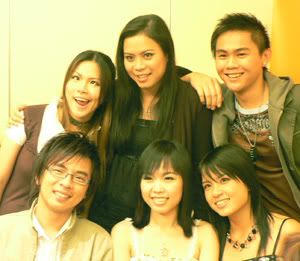 Cindy(top-left : striking a pose!), Ching(bottom-middle), and Suki(bottom-right).

The one i like best is Suki! She's kiut(although not as kiut as you-know-who but that's not the point). Now that she's in the top 12 i wish her all the best. Next is Cindy followed by Ching. Hopefully there'll be a top 13 so can at least fit one of them. KIUT KIUT KIUT!

But if wan banding kiut-ness, who can beat..



THE SUPER-DAMN-KIUT HOST MARION! and the small girl too!

Damn..'One In A Million' is a contest to find the cutest girl in Malaysia issit?
0 comments: