I realised i'm spending too much time on my blog. Seriously.

I've just spent the whole morning categorising my 150 blog posts. It's damn tiring can? The new blogger beta enables "Labels" - a feature where i can tag my posts for easy search and categorization(just like how u tag ur youtube videos). Anyway..to use the blogger beta to it's fullest i'd had to upgrade my blog layout. I tried..and my blog "successfully" transformed into a n00b blog..haha. Man..although the new layout system enables easy editing feature..but if i was to upgrade..i'll have to start redesigning my whole blog from scratch..aiks!

So i present to u..the new additions to the family..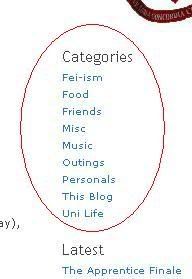 Categories! Now u can browse my older posts with ease. I'm still finding out how to display the number of posts in every category - i'm not using the new beta widget, just plain html. Maybe AiLin can shed a light?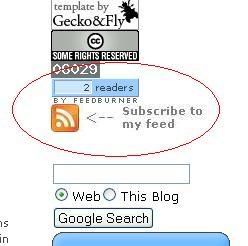 Feeds! Subscribe to me so u'll know when i've updated.

Tak tau apa tu 'feed' n how to use a feed reader? I use Google Reader and if u want to also let's watch this video below n see a farnie google engineer explain wat it is.


3 comments:
10:43 PM
10:31 AM
1:21 AM