Happy Mooncake Festival Everyone! I used to call it Mid-Autumn Festival but now feel if use that term like lan yao yeng..so stop liao..haha. Call Happy Zhong Qiu oso better.

Had a pleasant surprise today. My course junior MeiYin n Elaine's LyeYong came to give us small presents leh..very nice of them. They both roommates n very cute wan. =)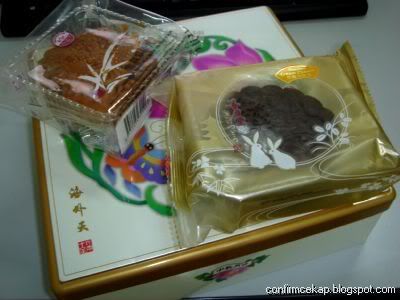 Mooncakes desu ne.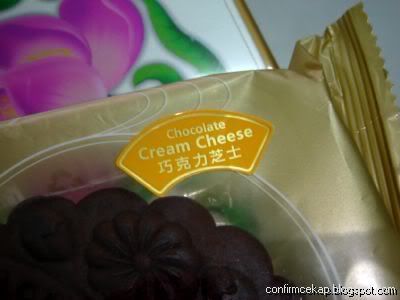 Elaine got Chocolate Cream Cheese. Very creative! Taste liao tell u all nice anot.

Then hor..last Sat got Zhong Qiu celebration in our uni ler. Organized by students wan..very cekap! Bring back alot of memories ler..when i was so called Programme Co-ordinator 2 years ago. UTM Zhong Qiu got alot "yuan"(fate) with me n my coursemates. CheeHoa n YeeChong were both Chaipersons b4 for that nite..keng hor? This time it's also very special as it'll be the last time we attend this function coz graduating next year.

Oh yeah..remember i told u my cam SUX at nite? It happened again(like usual). So i'm just gonna show u some photos that are minimally-compromised.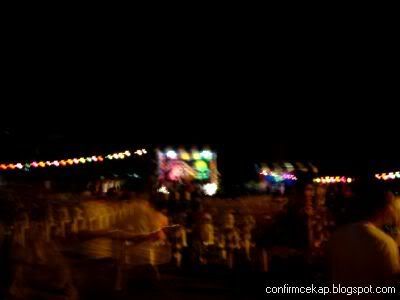 See..we have a stage up front. Chairs for spectators. And stalls at both sides(not in pic). Yeah..got similarity with the Bon Odori.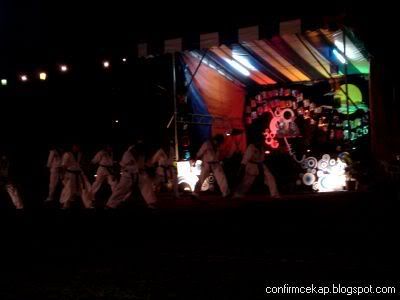 Tae Kwon Do/Hip-hop performers performing in front of the stage. Y i say hip-hop is b'coz the TKD ppl actually danced to their fighting steps..keng chau!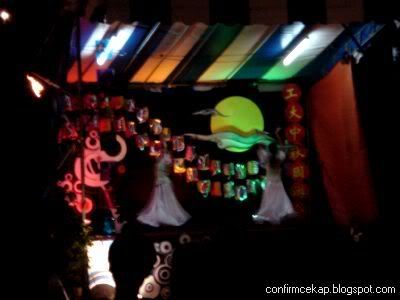 Flying Dance Studio's dancers performing a traditional dance.

Ok..now to the camwhores. Coz it's quite boring to just show u photos of ppl u've seen a thousand times..so i'll try to find and tell something interesting about them.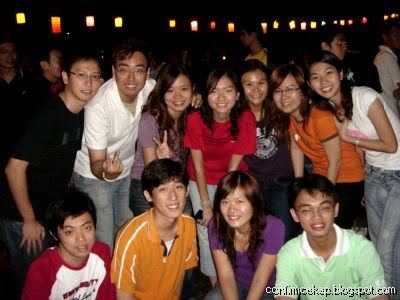 SzeLek(second from top-left) showing a terbalik 'V' sign n think it's damn yeng..hehe.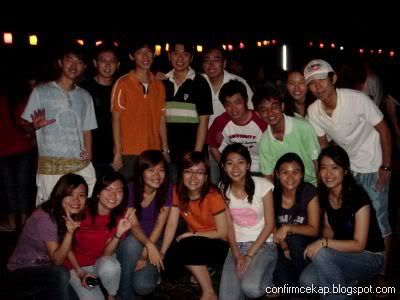 Kenny(first from top-right) wearing a cap at nite n think it's damn yeng..hehe.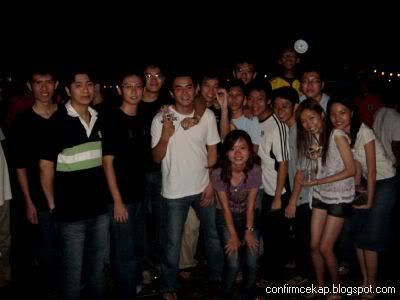 Erm..Catherine(second from right)'s legs?!?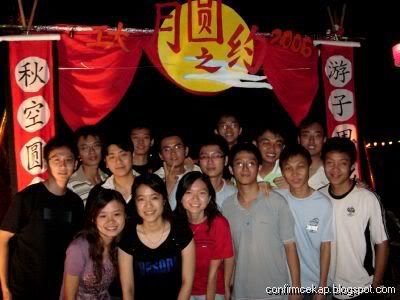 Finally..at the entrance's arc. I think nowdays heng terbalik 'V' ler : CheeHoa(3rd from middle-left).
0 comments: