I finally turned 21 on the 2nd of November 2005. My friends were very kind to celebrate this auspicious day with me. We were at our usual meeting place - Aliff. The following occurs between 11pm and 1am on the day of the Presidential Primary. Events occur in real time. (hehe..too obsessed with 24).



Coffee-flavoured cake. Still in one piece.



Going to reach 12am. Awaiting..



(Sing song). Let me make a wish...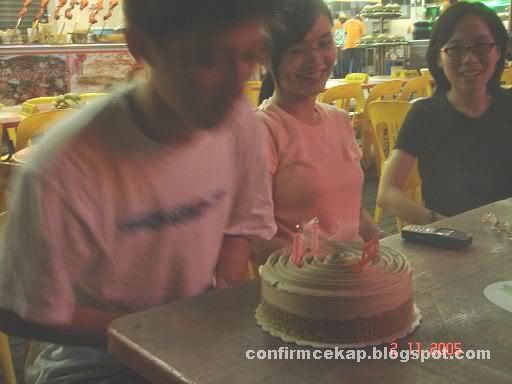 (Puhh..). Habis 2 big n 1 small candles.



To end official ceremony - cut cake. (Half of the cake was divided and eaten..while the other half was left for..u shall see..)



As suggested by my friends, i was suppose to take out the cake decorations using my mouth. (yes..saliva all over cake!)

My friend Mei Yi decided that they should not just let me go so easily. We shall play a little game of "Paper, Rock, n Scissors". The rule of the game was however : All 8 of my friends will challenge me n the loser has to eat a bite of the cake left-overs. Sounds fair rite? IF U'RE A CHALLENGER!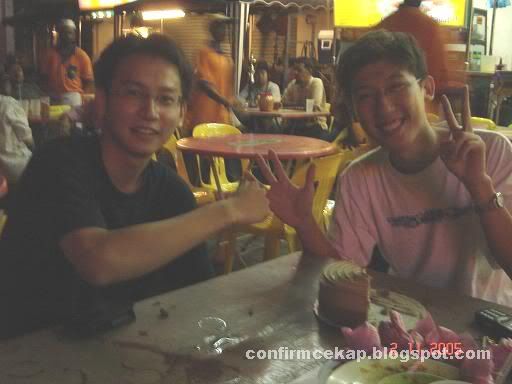 1st challenger - WeeVern. Yes..win!(see "V"ictory sign). Where got ppl straight come out rock one? Hehe.



WeiAng - Aiyar..sui do hao. Lose.



CheeSon - Wat is this? Lose again.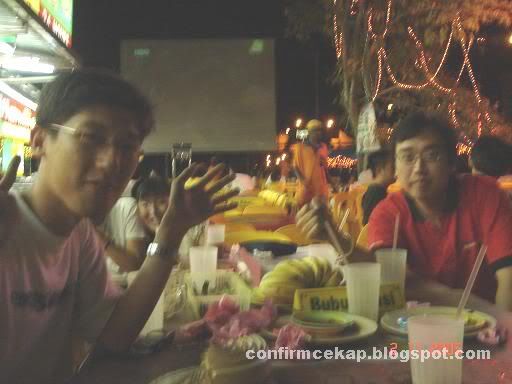 SzeLek - Me have luck with "Paper". Win!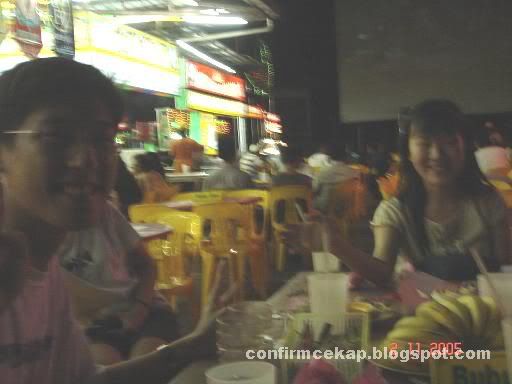 HooiEan - Me win with "Scissors"(photo abit blurry).



MeiYi - Lose. Memo to self : Same trick doesn't work twice.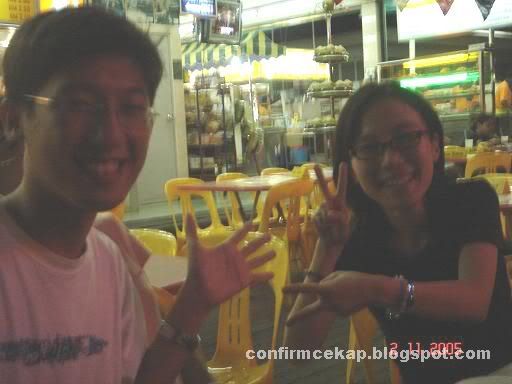 ChinChin - Not again. My lucky "Paper" isn't working.



Last challenger, Elaine - WIN! ngek ngek.

Results : Win-4. Lose-4. Possibilty of winning = 0.5. This is a Binomial Distribution u know?

Well..after one round. STILL GOT ALOT OF CAKE LEFT! Shit..round two. New rules : Winner decides the size of a bite n has to feed the Loser.



Cis..ter-let him pou sau.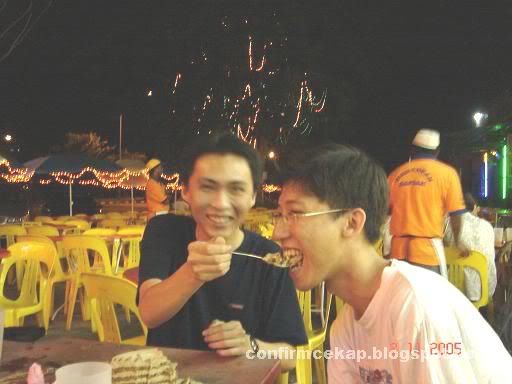 Lost twice to him! Aarrggghh..



Yes..pou dou sau.



My victim(won twice). Come, feed u big big piece.



Victim no.2(won twice). Big piece too!



Damn. Lost twice to her. Look at the size of that serving!



Another predator(lost twice). She actually pushed the fork into my mouth..luckily i didn't choke).



Easy prey..Elaine.

Results : Win-4. Lose-4. Wow..this Binomial Distribution is REALLY fair!

So now STILL LEFT A BIG PIECE OF CAKE. Since i was the bd boy, i've decided that the ones who never lost(WeiAng, MeiYi, n ChinChin) shall choose one person to play with me..the FINAL ROUND.


Look who's having the last laugh. (Yes..win!)



Group photo.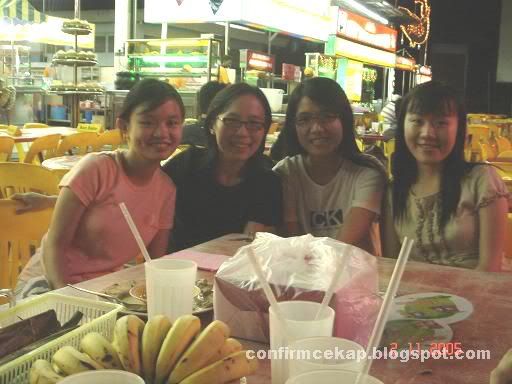 Ladies.



Gentlemen.

Hehe..back at home was another surprise for me. Courtesy of dear Elaine.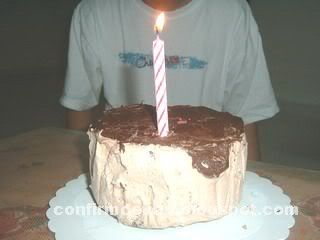 Self-made ice-cream cake! It really took me by surprise.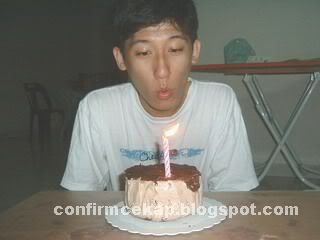 Once more candle-blowing ceremony. (the question was : could i finish the cake?)

The presents :



Bro n Sis - Harry Potter's 6th book! So cekap. Thanks a lot..love u lots!



Elaine - Wow..a big package!



Consists of 1)Self-made card, 2)Donald Trump - How To Get Rich, 3)Dan Brown - Angels & Demons, 4)PCGAMER magazine. CONFIRM CEKAP! Actually she went n got me Harry Potter(same as above)..wanted to surprise me(coz me Potter fan)..manatau i surprised her by telling my sibblings got me that too. She had to go all the way to change to these books(which r ones that i've wanted as well). Thanks so much!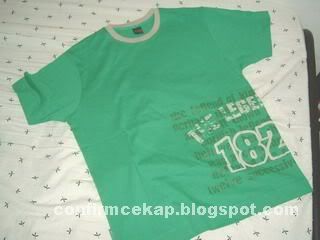 Friends - I've never owned a green-coloured shirt b4(i think). Time for a change. Thanks guys n gals!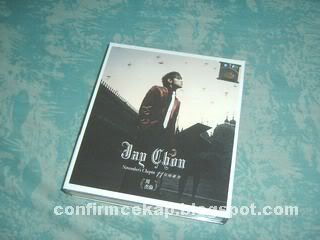 Present for self - Jay Chou's ORIGINAL "November's Chopin". Support good music, support Jay, buy originals!



On the morning of my bd, dear Elaine prepared a special breakfast. Very gamdung la! =)


P/S : Nola..i didn't finish that ice-cream cake one shot. Very full that time. =P
3 comments:
2:43 AM
1:33 PM
3:52 PM