Hi all. How cha doin'? Just had yet another final paper..quite hard..but nvm. So today my mom called me :
[around 12:30pm like that]
Mom : Oi..baru woke up ar?
Me : WAT LE..i just came back from an exam.
Mom : Oh..hehe. How was it?
Me : Quite hard..but just do lor.
Mom : Icic. Like that can pass anot?
Me : Hehe..pass is can la..can't score onli.
Mom : Just do ur best. Ah..so r u "available" on X'mas eve?
Me : Wah..y oh?
Mom : We plan go Genting watch "Richie Jen & Huang Pin Yuan X'mas Eve Concert". Wan go anot?
Me : Wow..gaya wor.
.
.
Me : Okla..c u in a week's time.
Mom : Ok..bye.

Nowdays opening very long(chiong hei)..i oredi like quite jimat liao..see the [. . ] in the conversation. Wat i wanna say is I LOVE CONCERTS! It's probably an influence from mom. I got 1 wish which is : "If i can afford, i wanna watch each n every live performance." Shit la..another reason to have to earn alot money in the near future. Damn. So i shall share with u basically all(i think) concerts that i've watched thus far :
[in reverse-chronological order(from recent to not recent)]



Andy Hui & William So >> Genting Arena of Stars >> Great n hilarious performance from the duo. Performed alot of other artists' songs that nite : Lao Shu Ai Da Mi, Chi Xin Jue Dui, etc.



Jay Chou >> Stadium Merdeka >> This is my no.1 idol. Superb performance by him. Rendered a Qing Tian+Rasa Sayang..very sweet. Painted his piano blood red for that nite. Chunted!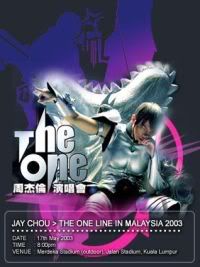 Jay Chou >> Stadium Merdeka >> Eh..Jay again? Told u no.1 idol ma. 2003 got go watch him oso. This is the concert where our Malaysia Idol ~ Daniel guest-starred. He sang Hei Se You Mo..very nice. *Participants : Family, Elaine n (tada)..Chi Chiet.



Linkin Park >> Stadium Merdeka >> "I become so NUMB..yeah". It was very high that nite. Too bad the concert was so short : exactly 1 1/2 hrs. * Participants : (tada)..Jacq Leong.



Emil Chau >> Stadium Putra Bukit Jalil >> Not an enjoyable 1. Though his songs r very nice(in cd)..but come to live performance..he can confirm be "Forget Lyrics King".



Alan Tam & Hacken Lee >> Stadium Merdeka >> Superb! Their songs oredi so nice..plus they r the truthful "sat lek pai" singers. Still mesmerising.. It was also a countdown to year 2004. * Hong Kong artist Anita Mui died a few days b4 that concert.



Fei Yu Qing >> Genting Arena of Stars >> Why? You got problems with Oldies singers issit? Hehe. His songs r so soft n smooth. Intersected alot of "yellow" jokes in btw songs..quite enjoyable.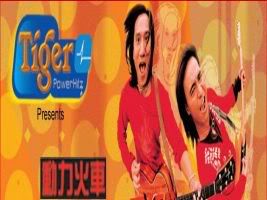 Power Station >> Stadium Nasional Bukit Jalil >> The sound system is best la! The electric guitar one strum u can fly away. Their voices r so solid. Too bad i onli know a few songs of theirs that time. If not more enjoyable.



Jacky Cheung >> Stadium Nasional Bukit Jalil >> Noneed me intro la hor? This is the "go san zhong ge go san"(The God of Songs amongst the gods of song). His voice is too damn cekap oredi. This kinda singers never fail to leave an impression on u. I heard the crowd that day amounted to 40,000!



Aaron Kwok >> Genting Arena of Stars >> Asia's very own Michael Jackson. Wish i could dance like him(ah wait..i mean wish i COULD dance). He was very hot that time for his movie "Para Para Sakura".


Richard Clayderman >> Genting Arena of Stars >> Piano maestro. Abit disappointed that he rendered more classical pieces than his Asia pieces which he is famous for in Asia. The french can crack a joke or two. Yeng!

Richie Jen >> Stadium Putra Bukit Jalil >> He was just getting to be popular that time. I watch him like quite some time ago. He's like the best come-from-taiwan entertainer. Comparing HK n Taiwan artists..HK artists know more how to move the crowd. But Richie..he's just like a HongKie..wait till u listen to his Cantonese.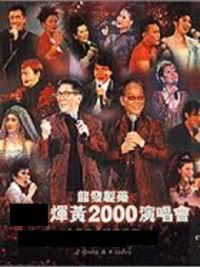 Fai Wong >> Stadium Negara >> Okok..most of u might not know who they r. That's becoz their music r considered in our parents era(but i love them alot). Wong Jim & Gu Ga Fai are Hong Kong's Canto-Pop pioneers. Both composers n lyricists, their popular songs include : Shang Hai Tan, Chang Hai Yi Shen Xiao, etc. Oh no..they don't sing their songs. They write songs for alot of TVB dramas that time n r sang by artists like Adam Cheng, Frances Yip, etc. * This is probably the best concert i've ever watched.



Grasshopper >> Stadium Merdeka >> This is the first concert i've ever watched..i think the year was 1993. My mom was still carrying my unborn sister then. She's now waiting for her UPSR results. Time flies huh?

There u go..nice leh. Hope u enjoyed it. If u've got the time..go n watch ur favourite artist perform live..i can guarantee u that the "feel" would be diff n u'll definitely enjoy it. Of coz..dun forget buy an extra ticket n belanja me la!
1 comments:
9:24 PM