Ever thought of breaking out of prison? Haha..sure not..u're not in prison anyway. But how bout IF u WERE in prison(choi!)? And u're sentenced to death and just counting the days before u're electrocuted(wow..wat a word). I'm sure breaking out of prison would be a wise choice(if you could do that that is).
So wat's all this fuss about prison, death, etc? Well..dear reader(yeap..that's YOU!)..u're such in luck b'coz I'm gonna recommend u a CONFIRM CEKAP english series - "Prison Break". This serial is still very new and u can tune in to it every Monday(haha..if u're in U.S.)..but if u're not..i'm sure u know how u can watch it anyway(ngek ngek). Okok..let's go to the offial synopsis of the series..i'm sure this will catch ur eyes :
"Michael Scofield is a desperate man in a desperate situation. His brother is on death row and scheduled to die in a few months for a murder Michael is convinced Lincoln did not commit. With no other options and time winding down, Michael holds up a bank to get himself incarcerated alongside his brother in Fox River State Penitentiary. Once he's inside, we learn that Michael - a structural engineer with the blueprints for the prison - has hatched an elaborate plan to break Lincoln out and prove his innocence."
Wow..isn't that superb? It's much more cekap than "LOST"(so far). Wat?!? Nothing special? Then how bout if I told u that the blueprints of the prison are TATTOOED on Michael's body? Hehe..gaya leh. I oso think so.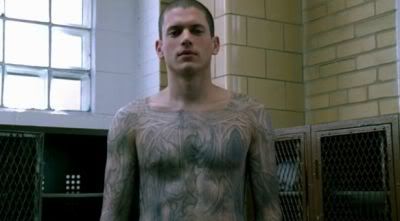 From far.



Up close. (Abit fat hor? But he's damn the gaya in this show).
So wat's more that make this serial so fantabulous(duno read this word from where edi)? It's the characters, the action, and the conspiracy behind it.
The characters :
ROBERT KNEPPER : (T-Bag on PRISON BREAK)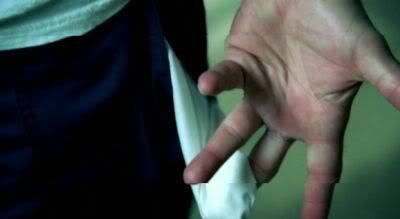 * This character named T-Bag is a scumbag! He's like so bintai(insane) AND he's gay! He's quite influential in the prison n u can be "protected" by him if u would be his gay partner n hold his pocket wherever he goes.
The action :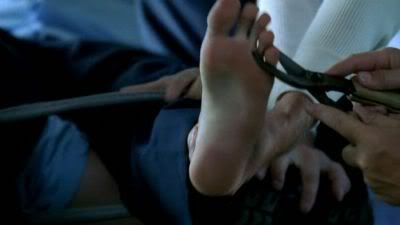 * I'm sure u wouldn't wanna mess with these guys. See wat they'll do to you. Ouch!
The conspiracy :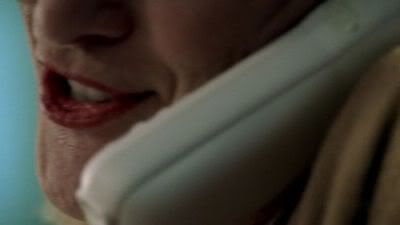 * So far we know that the Vice President of the U.S. is behind all the framing up of Michael's brother, Lincoln. And she's using the Secret Service(a organization of police-like-ppl to protect important ppl in U.S.) to do her dirty work.
I'm sure u're quite amazed so far..u should really watch it. Before I end this post I shall teach u some prison slang so u could survive behind bars(choi!).
Sucre : "Suggest you take a seat, FISH."
* FISH

:

A new prisoner
Sucre : "You couldn't BUST A GRAPE in Napa with a set of cleats on."
* BUST A GRAPE

:

To challenge another inmate to take physical action
Officer : "Burrows. ROLL IT UP. Happy hour's over."
* ROLL IT UP

:

Order by an officer for a prisoner to move out of an area.
Bellick : "Got a SHANK in here."
* SHANK

:

Handmade prison weapon, usually used for stabbing.
Bellick : "All due respect, sir, a LOCKDOWN's not going to do anything."
* LOCKDOWN

:

The policy of confining a group of prisoners or an entire prison to cells. This is generally done in response to unrest or emergency.
Pictures courtesy of http://www.fox.com/prisonbreak/ and http://www.prisonbreak-online.com/.
0 comments: