Hey..it's that time again : E-quan's own version of "食字路口"[direct translation : The Crossroad of Food(TCOF)..wow]. So whenever my blog post is concerning food i'll start the title with TCOF(n), where 'n' represents the episode number..hehe. Today i is going to intro u all 2 eating places in Johor Bahru. We'll start off with..



Located in AEON Tebrau City.



Among the food served.



The drinks(Actually it's just for fun..not to say u can read the words in the menu rite?).



Alot ppl leh. Nowdays economy down ok : Petrol price increase..etc. Yeah rite.



Come show u all something interesting. So got bread ma rite.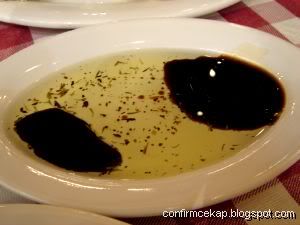 EEeeeww..WHAT'S THIS?!? This is vinegar + olive oil. No..it's not our drinks. The bread(above) is to be dipped inside this and be eaten. Itallians. (I must say..it's quite nice actually.)



Me n Elaine called Meatball Spaghetti. Serving big enough for two.



Look at the size of that meatball!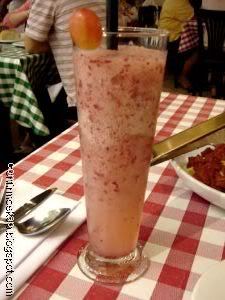 Very nice punya grape shake. Okla..it's not VERY nice but it's refreshing.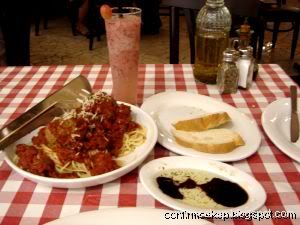 Chuen Ga Fuk(Family photo).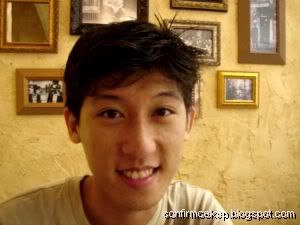 Then is must *camwhore abit. See..look at my big nose.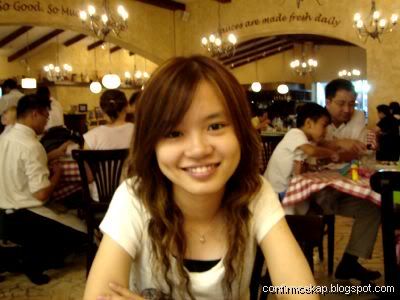 So i was looking at Elaine(oh yeah..look at her coloured n curled hair..hehe)..

Then
...
..
.



She metamorphosized into a butterfly..WALAU!
*Wing brushes from ObsidianDawn.com.



This one is i hold the camera one. U can onli achieve this level if u dun have shaky hands..unlike WeeVern somebody..wakaka.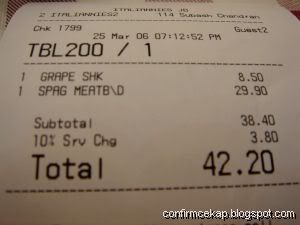 Overall is not very nice ler. Coz we is dun really like the Itallian taste(or we called the not-so-cekap food..haih).



Memorise this arcade game's name.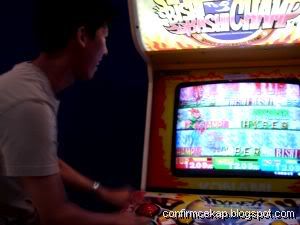 It's very chunted one..got 3 buttoms onli. I dunno how to explain la. U go try then u'll know.



Have u taken a photo in a cinema b4? This one just b4 our show "I Not Stupid Too". Very wuliao rite? U know wat..i'm getting boring as i type. I think i should stop this put-alot-of-photos-and-tell-a-lame-story type of post. I know..u're getting bored of it too rite? Please bare with me..a few more photos to go onli..hehe.



So there's this Euro Funfair just outside Tebrau. Didn't go in though.



After movie we went to this place for supper. Goh Zha Lang is Hokkien for "last time ppl"..or issit "primitive ppl"? I think both rite.



So this place is eat porridge wan. Imagine..eating porridge at 1 something a.m.



Then it's called dishes to go with the porridge one. We called stew pork, omelette, vege, n soup.



Imagine again : So u called a pot of tea, u're eating porridge, then u go order soup somore, then they give u red bean soup on the house. =P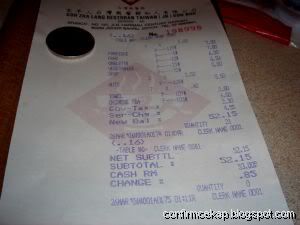 RM52.15. Malaysia economy i really "depreciating" ler.

Then is MUST camwhore again..



Couple #1 : WeiAng + ChinChin.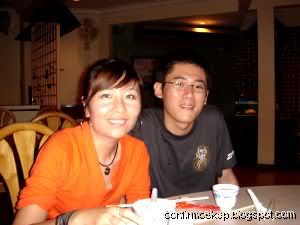 Couple #2 : YeeVoon + YenPin.



Couple #3 : Jolin + Jay.



Couple #4 : Cheeson + SzeLek!!!


*camwhore

A person, male or female who likes to take pictures upon pictures of themselves. They may post them all over their little spaces on the net, including but not limited to Lj, Xanga, My Space, VampireFreaks.com, Hot or Not.com, ect... And they may post them all over message boards they frequent.
Or they can be one of your friends who likes to send you a dozen new pictures everyday of themselves, in new and old poses, clothes, makeup, ect... And you now have a bigger collection of their faces on your computer than you do mp3 files and other picture files put together.

excerpt from Urban Dictionary.
1 comments:
11:19 AM