FINALLY..ALL MY FINAL PAPERS ARE OVER!!! I IS HAPPY.

BEWARE! I'm back to the normal mode. Tons of photos ahead until u-would-just-wanna-scroll-damn-fast-down-n-wish-it-would-be-over-soon type of post. Enjoy. =)



OK..i admit : I'm a singing fanatic. So after the final paper, my coursemates decided to go Chismosa(A Mediterranean restaurant) for dinner..but i DIE DIE oso wan go Redbox(coz not all my coursemates like to sing one)..so i berjaya rampas a few kakis n went on with my plan.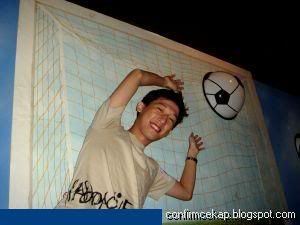 This time..our room is themed 'Football'. See..i am confirm cekap penalty saver - Lehmann(Arsenal's goalkeeper).



I beg ur pardon..i mean the room is themed after 'Beckham'.



Beckham here, there, n everywhere.

As u all know..Beckham is a great football player. Furthermore he is handsome, yau yeng, etc. We is very respect him one. But sometimes..he kills all the girls..we is besyiok.



Nah.



Peace.

Sorry to all those Beckham fans..but let's continue.

So this time my contingent is made out of all Shi Li Pai singers. They include :



MeeiFong, Annie, n Adeline.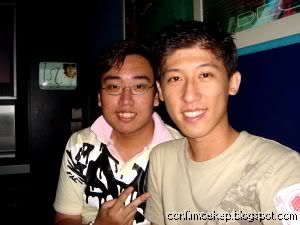 JJ Lin Jun..i mean..SzeLek.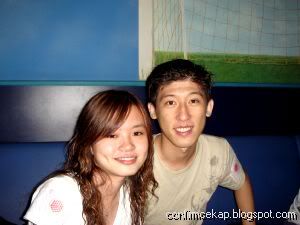 Then is got Jolin Chai oso.

So the hor, this is first time i go Redbox nite package wan. We is reach at 8pm. The lady say can sing till 11:30pm. But if got room can let us continue. The timing is quite rite oso..coz later joining the rest of my coursemates at Eskimo.

So for the nite package..



With this sticker..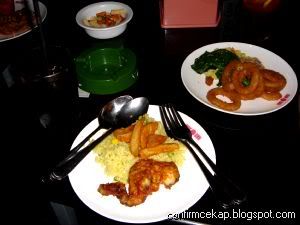 You is entitled to the Buffet Dinner.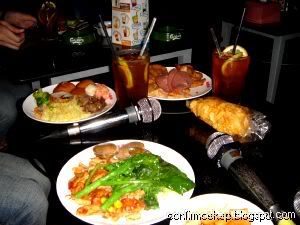 Which we personally feel is not bad at all. Not like somebody said until so teruk.



Then each person is entitled to 2 free drinks. Got lemon tea, juices, n beer oso.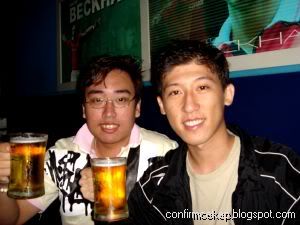 Me n SzeLek is kampai.



Then is got dunno wat lychee, aloevera, n strawberry.

The actions :



S.H.E.



JJ.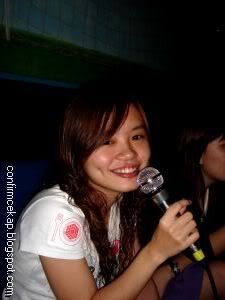 Jolin.



Collaboration btw Jolin n Selina(S.H.E.). Waseh.



Then for 6 persons the total amount we spent is RM211.41. Around RM35 per person. Eh..y so expensive leh..i thought there wrote RM25.20++ per head.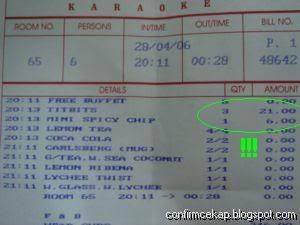 TAMADE. Rupa-rupanya is got Titbits that amounted to RM27! Actually we is feel very worth it if not for the nuts la. Coz got 2 drinks u is can call Beer oredi how much liao. Then got quite ok buffet. Then u is can sing for at least 3 hrs.

Talking about singing time. That nite we sang until 11:30pm. "Eh, y haven't come the bill wan?". Of coz like this we sure continue sing edi la..then ma keep sing. Suddenly 12:30am liao. Still is haven't the come. Buthen YenPin+YeeVoon oredi chui us to go Eskimo liao..we is really DAMN OVERTIME..so gtg. So hor..if u guys really is Chiong K kakis..ajak a few good frens..go at 8pm on a weekday..should be can sing until 3am. Confirm SYIOK!

Next destination..Eskimo Joy.



CHAO TURTLE..on a thursday nite sai me sai so many ppl!



Walau..on the dance floor oso need take photo. Elaine, paiseh, ter-cut ur face.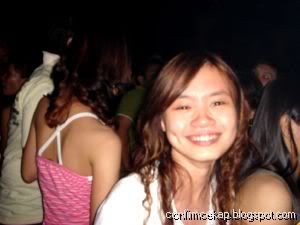 Bou fan sou.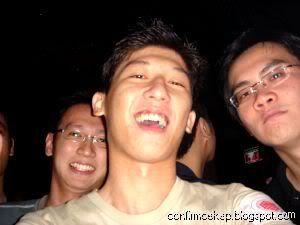 I is cannot lose out oso. Here's me. Look at CheeHoa(right)'s punya pig cute face. I like. =)



Keep on take lor.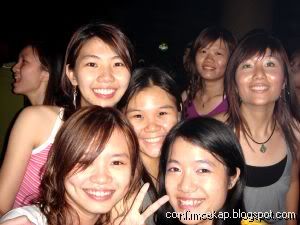 Yau take.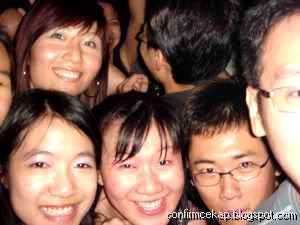 Yau take. WeeVern(right)..the pengacau.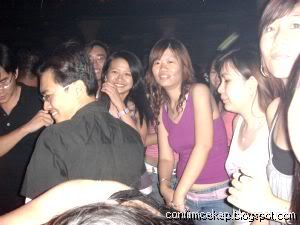 This is wan take SenTian+HooiEan dancing wan..but the main actress berjaya escape.

You know during my first visit here..i refer to dancing as 'feng'. But i is found a better word for it : 'IAO'. Pronounced "EE-AA-OO!". A more exaggerated version of yao(goyang). So..let's IAO-leh!
Talking about IAO-ing..i realised i have no talents for dancing. Yes, the music(house, techno) i is like, but it's like..no body synchronization..damn!

-------

Before i embarked on my journey to JB on thursday nite..my oil indicator is oredi blinking. But i was thinking..since saturday i'm leaving for Klang..might as well pump later. Anyways..after IAO i berjaya send all my comrades back n reach home safely myself.

So today(friday)..i had to go in campus to hand in an assignment. Thinking of pumping straight after that..buthen..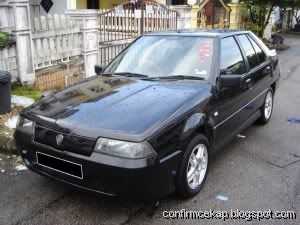 CHAO KING KONG..my car die-ded on me. =(

My car actually went completely out of petrol in campus! Oh yeah..this is my 2nd time in life that i've ran out of fuel. The first time during 1st year..also inside campus. But that time the car was parked..since no petrol..it couldn't start. This time keng lor..drive half way the engine died..luckily got place park at roadside.

Talking about luck..i think i'm having a lucky day. My fren YOUYAN(capital letters to show that he's GREAT) happened to pass by us(me+elaine) and HE saved us! YOUYAN drove me to the nearest petrol station to buy petrol to feed my "BMW". Yor..i is feel eternally grateful leh. I ask u..how many times have u've been in real trouble n some guy just drop by to save ur ass?!?

Oh f***..i is typed so long liao. Since so long..might as well go on. This is the 4th time i've been carried around by a motorcycle(<--i sound very sua gu). First time is YenPin fetch me for..around 10 metres? Second n third time is Elaine fetch me. Fourth time was today. Yor..i must say..it's more cheekik than Roller Coaster leh! I is dunno any shit about motorbikes..i do hope i still know how to ride a bicycle. =)

P/S : Why u laughing?!? Dun bluff. You pernah ride a motorcycle meh? Damn those rich kids who drive cars to uni. Got motorbike dowan to learn. =P
0 comments: