Last Saturday we had a BBQ party n sun-bian'ed celebrate YenPin(5th)'s + Elaine(8th)'s bds. I remember my Mom said b4 birthdays can be celebrated late but not early. The reason behind it was if tak cukup umur oredi celebrate then will die early. Serious wan..chinese customs is damn kau alot wan okay. If dun believe got such a custom u ask CheeHoa..ask him ask his Mom..sure know wan =P. But CHOI!..we is modern wan..BAK MOU GAM GEI..hehe.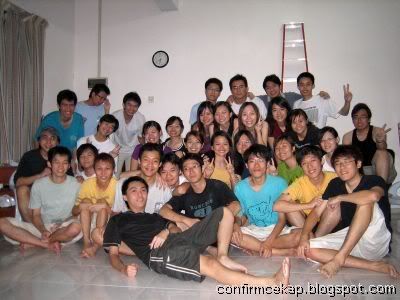 I noticed my "tiao tone"(digress) punya "gong li"(power) is very strong. Oh yeah..so hor..after bbq we gambled played cards ler. YeeChong jadi dealer n we played Black Jack(or African-American Jack..haha). Then hor..when playing i heard KianKhee said, "So how come Ace n King then can win double?" Not long after that, "If five cards then win edi ar?"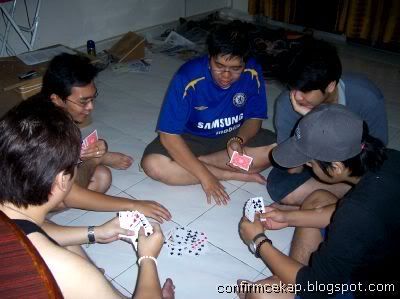 OKAY..i is very understand Da Xue Shen-s is very guai wan..tak pernah gamble in their life wan. But FYI, everyone MUST know how to play black jack la..it's cannot like this ma..we is cannot keep kaji the transistor ok..hehe. Anyway, must praise KianKhee..such a good boy. I issue warning 1st..u all cannot teach bad him ar. =)

Anyway, since CNY is coming..i feel confirmcekap must come up with something to bersempena with it. So here it is..

CONFIRMCEKAP's LEARNING BLACK JACK for DUMMIES

1st i need to clarify that the black jack that i'm teaching is for CNY n for playing among frens nia. The casino-styled black jack is slightly different wan. Dun learn liao straight go Uncle Lim there play..sure lose wan.

According to Mr.Wiki, "Blackjack, also known as twenty-one or Pontoon, is one of the most popular casino card games in the world." Waseh!

The basics of the game are :
Each player is dealt two cards. The hand with the highest total wins as long as it doesn't exceed 21; a hand with a higher total than 21 is said to bust. The goal of each player is to beat the dealer by having the higher, unbusted hand.

For Part 1, teach u all each card value first.



to


For cards "2" to "9"..they represent their stated points respectedly. "2" for 2 points, "3" for 3 points..."9" for 9 points.



,

,

,


For cards "10", "J", "Q", and "K"..the represent 10 points.




Card "A" is BERRY special. If u have..
2 cards : It can represent 11 points or 1 point.
3 cards n above : It can represent 10 points or 1 point.

U can win a black jack if u have 2 cards n they amount to 21 points.





A classic Black Jack.
"A" = 11 points. "J" = 10 points. "A" + "J" = 21 points!
Anyway, black jack doesn't mean that u really must have a "J"ack and the "J" must be black colour ok? "A"+ ("10" or "Q" or "K") oso can. =P

Stay tuned for Part 2.

Card images courtesy of http://www.eludication.org/playingcards.html
2 comments:
2:23 AM
5:22 AM