Happy New Year everyone. For those born in 1984(like myself), it's our year..the rat year. Tanpa diduga, the chinese horoscope thingy sudah pusing 2 times d..24 years old this year. This is not good..not good at all. Haha.

Anyway, for the past one month it was really eventful! Met up with so many UTM coursemates..nice neh. It's really wonderful that we're still so close even after graduation. Must cherish oh.

As usual, i'll let the pictures do the talking. I'll also add some comments so u'll know who the persons in the pictures are and how are they doing lately..just in case u're back from UK and dunno anything all. Hehe. We'll proceed chronologically..

During christmas, YinTing and gang came! We went to The Curve..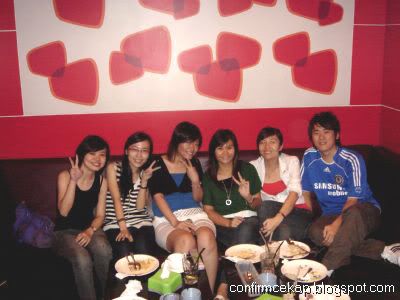 [From left: Elaine, Chin2, YT the great!, BeeYong, YeeVoon, and YenPin]
So we went CHIONG K after so the very long. Nice ler sing with YT. She improved alot d. JJ's Xi Jie sing till sibeh lam.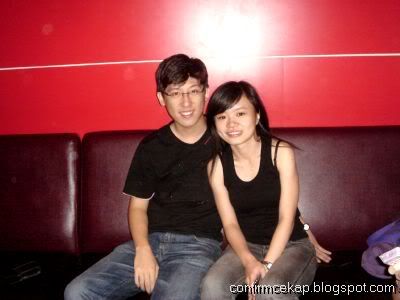 Me and Elaine.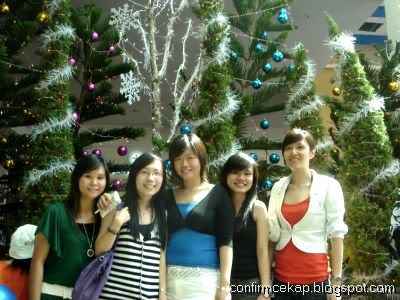 3 on the left currently working in Malacca, the 4th in Central Region, and the right most in Penang.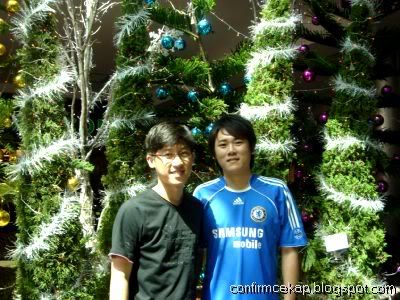 Me and shuai-ge Pin. Pin is also in Penang.

-------

Just this week Monday, Ean-jie came to town! Wah, make till whole Central Region kanchiong nia. Everyone need prepare to sambut her..so dai zan jiong!

We had dinner at Asia Cafe in Subang..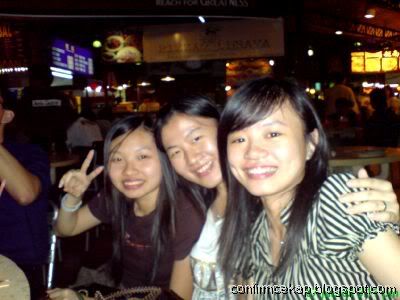 [From left: IanCing, HooiEan, and Elaine]
Really kaulat ler Ean's influence. Actually Central Region members quite long time din meet d. Then heard Ean-jie's in town, everyone berebut-rebut keluar sambut her..keng keng. Pei fu.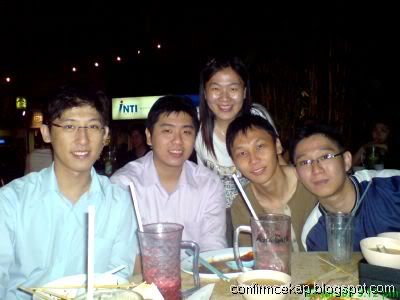 [From left: Me, CheeSon, Ean-jie, YewFatt, and Eugene]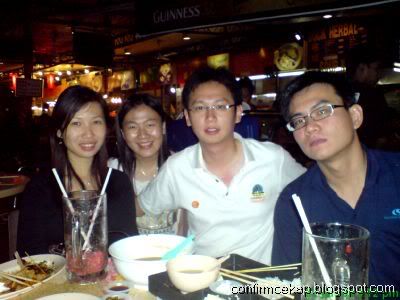 [From left: ShinJiin, Ean-jie(wtf, how many times appearance d?!?), WeeVern, and LowKei]

Coincidently, LowKei's bd was around the corner(10th Jan). Spearheaded by Ean-jie, we decided to give LowKei an impromptu bd celebration(earlier) as he'll be back in Ipoh on his bd.

In Elaine's house..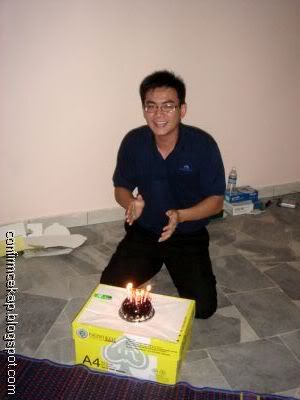 It's now a formal rule that above 24 years d need ownself sing bd song..cham.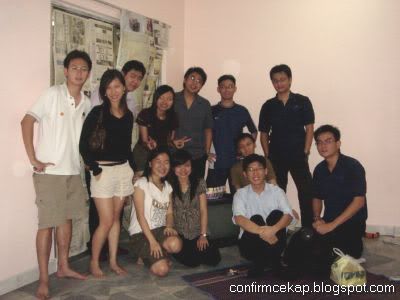 Group photo! Central Region members. Paling rock sekali. Those Southern Region, Northern Region sau pei la. No activities pun..tak rock la.
So all of the above work in Central Region, except Ean-jie whom is working in S'pore.

-------

Then just the day b4 yesterday, met up with SueWei! U know who is her anot. That girl leh, come UTM a while then got scholarship then chao to Engrand oredi. She's back!

We had dinner at Madam Kwan's in MidValley..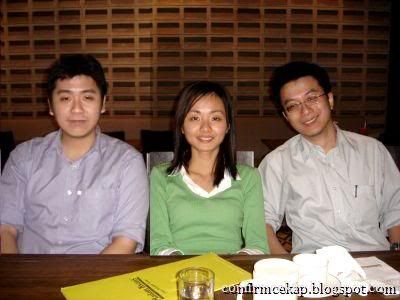 [From left: CheeSon, SueWei, and HuiTek]
It's so nice of her hor. After so long still remember us. Berjaya ajak Vern to ajak us. Good la u. Very gou peng you.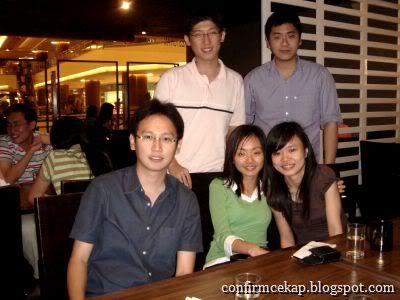 Sorry ar, the group photo with the 6 of us is abit the cacat(too small). So i put this instead. Thanks ar HuiTek for taking this.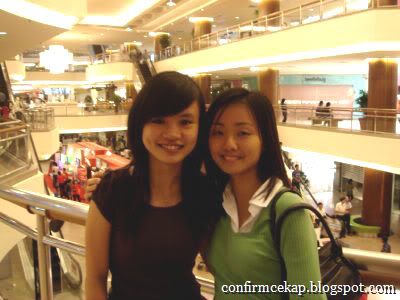 Elaine and SueWei.

Both SueWei and HuiTek now are also working in Central Region. So they officially join the Central Region club la. Take note ha IanCing. Dun forget the meeting minutes and action tracker..haha.

Heard we'll be having a CNY Reunion dinner for the Central Region(of coz others interested very the welcomed) on the 26th. Wait for announcement oh.

Take care guys.
2 comments:
7:55 AM
7:57 AM