NEW POST NEW POST! I mengaku kalah, I update my blog d. Stop pestering me, haha.

I just had a wonderful weekend with Elaine. Seperti biasa, we went to gai-gai in shopping malls again instead of gym n sports at the club. We fail everytime, haih. Tummy oh tummy, please go away.

Ok, this time wan kai siao u all one eating place. Elaine n I had always wanted to try this but this time only we berjaya-ed. It's called Tony Roma's. Currently it's available in Sunway Pyramid and Damansara Cineleisure nia. This restaurant is famous for its RIBS! SYIOK!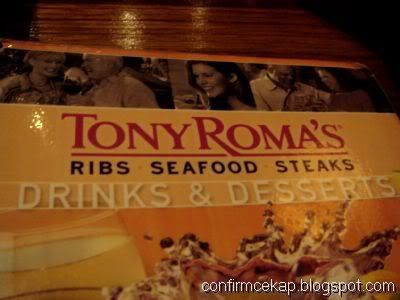 TR = Ribs, Seafood, Steaks.

I dunno about you but for beef, i prefer beef pasty(think TGI burger), and ribs more than steak. Tak tau appreciate the greatness of steak, fail, haha. Our first impression of this restaurant was: "Why so like TGI Friday's wan?". But nevertheless, the ambience was really nice and cozy, with dimmed lights and all.

So we were shown to our table and this really cute waitress(Elaine oredi killed me many times for this, haha) called Pamela(more about her later) served us for the night. These were what we ordered: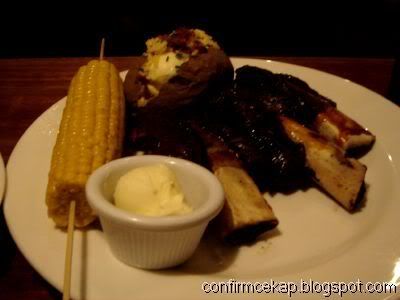 Beautiful Bountiful Beef Ribs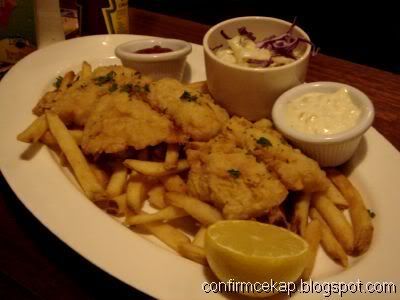 Fish and Chips

Ribs bolehlah dimakan dengan 4 sos specialty yang ditawarkan oleh Tony's. WTF, ter-changed to Bahasa, sorry. But i'm good in BM. Let me continue:

Sos yang ditawarkan termasuklah:
(A) Sos asli, dalam bahasa laymen-nya ialah Original
(B) Sos BBQ, di mana ia merupakan sos kegemaran Pamela, katanya
(C) Sos Honey
dan
(D) Sos berperisa Cili, tetapi bukan sos cili

Sila buat pilihan anda.
Okay, anda pilih (B), Sos kegemaran Pamela, adakah ini Pilihan Muktamad anda?
Anda PASTI?

TAHNIAH, jawapan anda TEPAT SEKALI dan anda bolehlah makan sos tu sekarang!

WTF man, GO AWAY, the fei-ism inside me.

The ribs were very nice! Although i felt that they would be nicer if they weren't so dry. The fish boleh tahan juga. But Elaine and I both felt that the nicest was:



THE DESSERT!

Elaine is crazy about desserts. This is called TR's Chocolate Avalanche. What was so nice about it was the molten chocolate cake which was still warm and served with cold ice-cream and topped with chocolate crumbles. Nice combo. SYIOK is the word.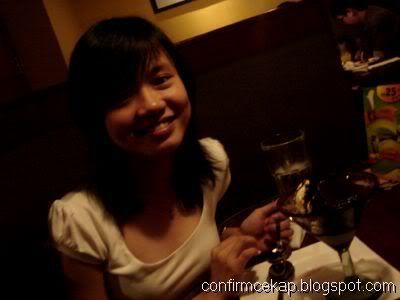 "We should have ordered ten cups of this instead of having the main course!"



"...like this also can."

Ultimately, it was a fine dining experience. The bill end up to RM100+. I guess we'll just have to work harder to enjoy like this, haha.

-------

Ok, let me digress a little. Remember our waitress for the night, Pamela? Thanks to the almighty power of Google, i managed to find her blog! I guess everyone in Kuala Lampa blogs, haha. Just wanna say a few things to her: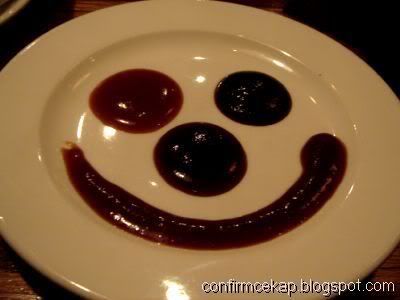 Thanks for doing the sauce intro for the 32145687+n times.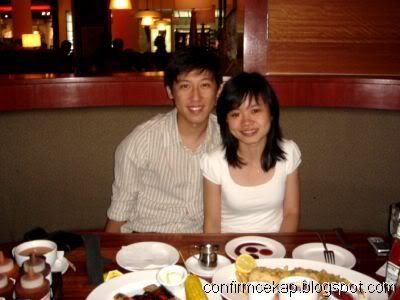 Thanks for taking a photo for us.

and thanks for being a wonderful server that you are. Guess you can add on to your RM RM844.30 meal redemption(filling the survey now). Really syiok betul work there.

-------

Haha, guess sure kena again from Elaine. But nvm la, we look at lengchais and lengluis all the time. Elaine, 2ml monday d..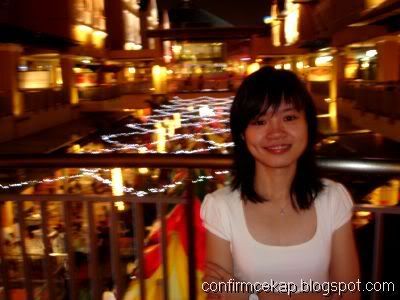 SIEN

p/s: INDIANA JONES SUX! The 4th installation spoilt my childhood memory completely.
0 comments: