Hi all,
This post must be quite interesting. I think most of us have been wondering this:
Which pizza chain serves the best pizzas?
When talking about pizza chains in Malaysia, we can't help but to compare the largest two:
Pizza Hut
and
Domino's
So on a fine Thursday evening(that was last Thu), we've decided to have a PIZZA PARTY just to determine the BEST!
Well, you can't possibly taste two type of pizzas in one location so we've decided to order them and eat at Elaine's place.
Pizza Hut Malaysia had just set up their online ordering service so this enables me to test both of their delivery systems besides testing their taste. Good!
For you guys out there, to order online, please go to:
Pizza Hut -
www.pizzahutonline.com.my

Domino's -
www.dominos.com.my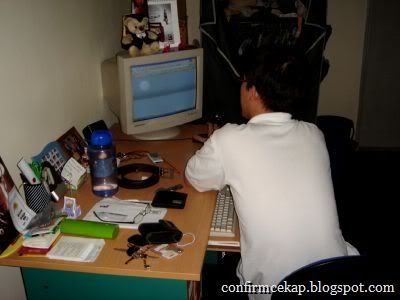 Erm, 5 persons order how much oh?
After some deliberation, we've decided to order as follows(we took the promotion deals):
(+click on enlarge)
Pizza Hut:
2 regular pizzas and 4pcs deli wings
ETA: in 45 minutes
(+click on enlarge)
Domino's:
2 regular pizzas
ETA: 30 minutes
Both of the online systems were good. Intuitive GUI and all.
Well, of course 30 minutes of delivering time of Domino's doesn't mean it's better-lar, cause it's dependant on your location and its nearest branch.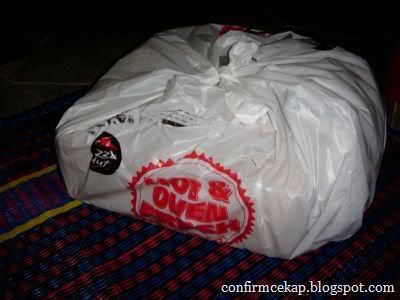 Pizza Hut arrived first. Took 44 minutes. Ok, not bad.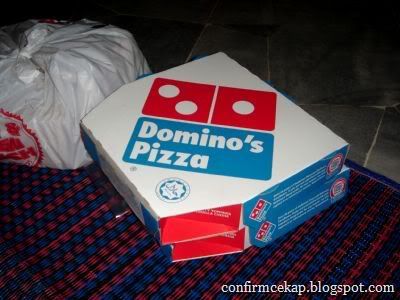 Domino's took 36 minutes. It's not too late either.
But since we're doing a comparison, so ok, delivery time Pizza Hut wins!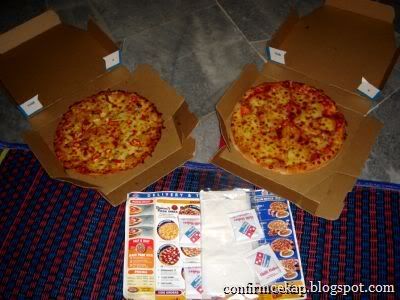 This is Domino's pizzas. Wow, looks appetizing!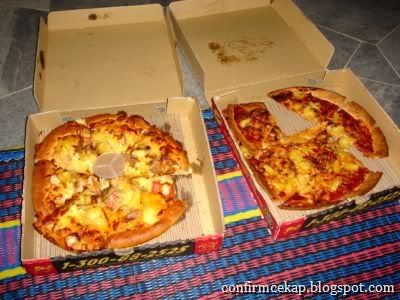 This is Pizza Hut's pizzas. WTF!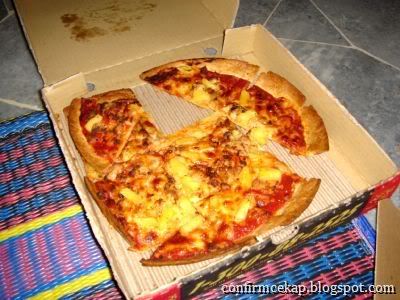 Look at this mess.
Looks wise Domino's wins!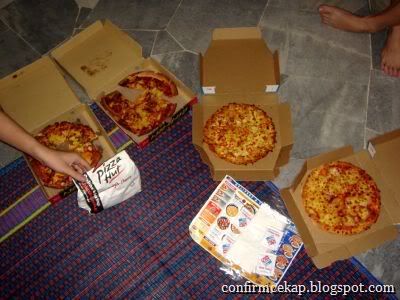 Ok pizzas, line up for a group photo now.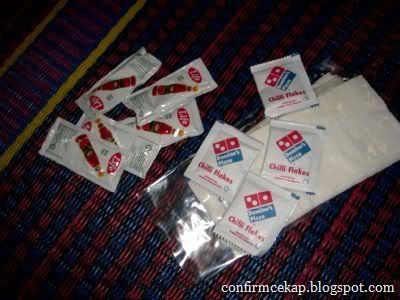 Pizza Hut came with Life chilli sauce whereas Domino's came with chilli flakes and some tissues.
IT'S TIME TO EAT!
.
..
...
Imagine the 5 of us(Me, Elaine, IanCing, YewFatt, and YeeChong) savouring our pizzas here.
...
..
.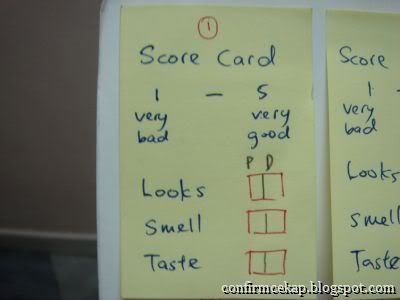 I'm actually wuliao enough that I prepared score cards for us to give marks to.
We didn't use it cause others felt that I'm too wuliao to be taken for serious. Haha.
But overall we were unanimous with our decisions on the Looks, Smell, and Taste.
Looks
: (Refer to above)
Smell
: Hard to determine. But YewFatt said when opening Domino's box, he could smell the aroma of the freshly baked pizzas, whereas almost none for Pizza Hut's.
Taste:
Pizza Hut
- Island Supreme(Regular Pan): Not bad. Everyone liked the sauce.
- Hawaiian Chicken(Crunchy Crust): Total mess. The back of the pizza was over toasted. It tasted even worse when it got cooler.
- Deli Wings: Unsurprisingly, the chicken emerged champion from the package. Haha.
Domino's
- Chicken Pepperoni(Classic Hand Tossed): It's the best looking pizza from the four. Tastes not bad also.
- Spicy Sausage(Crunchy Thin Crust): It's the tastiest pizza from the four. It came as a surprise as we were only experimenting with the Spicy Sambal Sauce series.
Taste wise, Domino's wins hands down!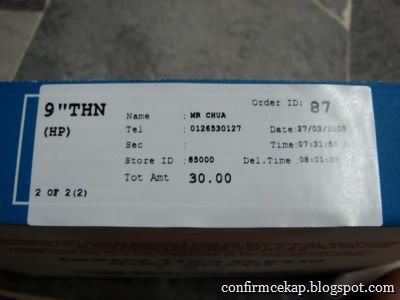 Overall, two regular Domino's pizzas cost us RM30.00.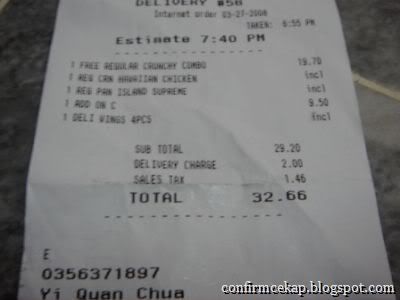 Pizza Hut's two regulars and 4 deli wings costs us RM32.66.
Price wise Pizza Hut wins! Really affordable.
-------

Conclusion:
Delivery Time: Pizza Hut
Looks: Domino's
Smell: Undecided
Taste: Domino's
Price: Pizza Hut

So you judge for yourself the next time you decide to eat pizza. For me, I guess I'll probably go for Domino's. Nevertheless, different branches might prove to be different. Maybe Pizza Hut tastes better in other locations. Which's the best pizza in your area?
Rgds,
e-quan
Wanna convert your height(cm <-> ft) and weight(kg <-> lb) or simply calculate your bmi? Try
this
. Highly recommended.
3 comments:
10:43 PM
9:26 PM
7:51 PM