Announcement announcement! As we approach the end of Uni life, we would "sadly" have to abandon our house and leave such a wonderful place such as JB..tsk tsk. So hor, the house we renting now is up for rent!

Who got juniors/adik-adik/frens/etc wan rent a cekap double storey house with 4 rooms 3 bathrooms and a huge living room in Tmn Pulai Utama please contact the number below. Price is negotiable.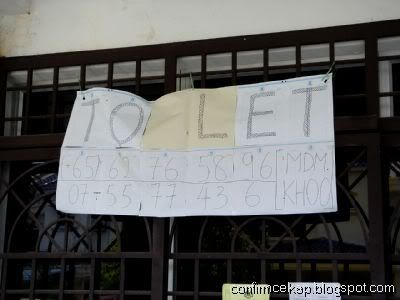 TO LET..not to be mistaken with TOILET. I handmade the banner with utm test paper wan..nice bor?

-------

Then hor, very paria. There's this contruction area near the place i living..then the lorries(trucks for Amadikans) keep go in come out..make the whole road damn dirty. Then recently..keep raining pula. U know la..when water campur with the soil..we get TEH TARIK!

As our cars pass by that area, we get some "fine art" on our cars' exteriors..FREE OF CHARGE. Let me show u all..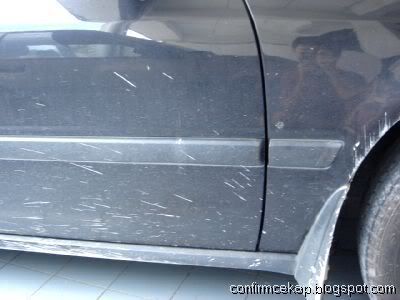 YenPin's car. He prefer simple yet can reflect attitude punya "tattoo". Ok..maybe 3rd runner up i give.



CheeSon prefers "tattoo" in the centre part nia. Means "zhong zhong zik zik me wui hak sek"(i dun care if u dun un..go watch some tvbs..hahaha). Okla..2nd runner up.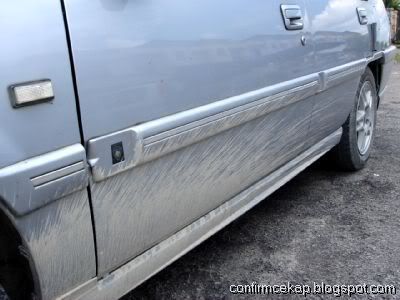 WeeVern likes adventurous "tattoo" from head to till. Means he likes wild type la..hehe. Quite yauyeng..give him 1st runner up.

AND THE CHAMPION GOES TO..(drum roll)..



MY CAR! Okok..maybe from the picture i is like lose to WeeVern..but seriously..my car black colour leh..kana like this not very kelian meh? Construction site yang tak guna!

Then hor..WeiAng's car like this..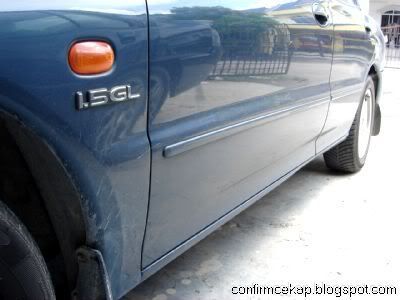 MADE..tak rock la. Foul u out of the competition.

p/s : Who wan get personal one-in-a-million car "tattoo" can come visit me at Tmn Pulai Utama. I'm sure u'll pick up some "fine art" on the way. All the best!
0 comments: