Haha..fuck die. Onli finished 2 final papers(2 more to go) oredi go enjoy liao..damn. After reading KY's n ST's and alot of frens' GREAT reviews on the movie "The Prestige"..felt like if dun go watch is need go jump into Klang river n drown..so terpaksa go watch la. Anyway the movie gonna be taken down from cinema soon..so terpaksa ler.

Since everyone should be watched "The Prestige" liao so i tell the ending should be no problem la hor. =P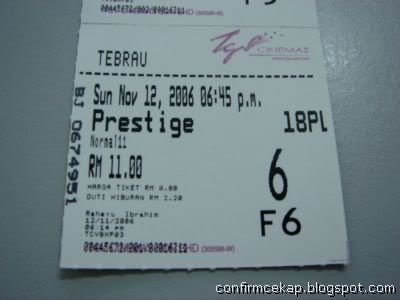 For me this movie is superb IF ONLY Tesla din create a self-duplication machine. That's like SO FAKE/UNACCEPTABLE can? The twin brothers concept can liao ma..the challenger must kage bunshin somore..keng! Anyway, my opinion is exactly like TheStar-Friday.

Arsenal won 3-0 leh. That's cekap! U know y they won?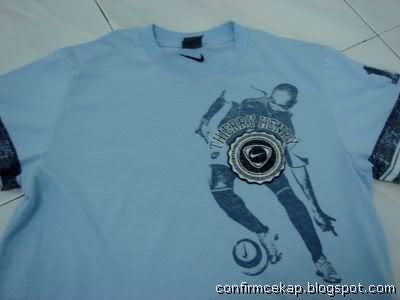 B'cos i wore Thierry Henry shirt go support them leh..chun! Thanks Elaine. If that's what it takes for them to win(wakaka), i'll wear this shirt to support every weekend.

This shirt is not pray-pray wan k..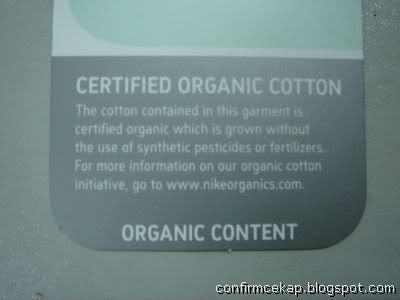 Nike..u play all la. Next time invent shirt wear one time liao..hungry can eat it lor. Recycle ma.

Btw...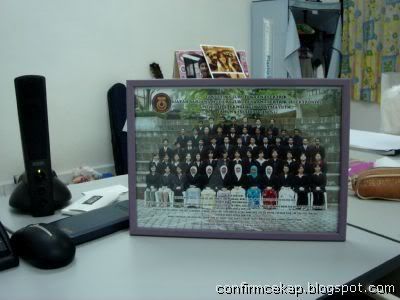 I oredi framed the A4-sized photo. Chun bor? So big dunno put where.

Anyway, wan share with u all a joke. There's this Carrefour in JB and as my 'fren' and i were driving pass it..

Fren : Eh, this Carrefour we never come b4 hor.
Me : Walau..dun say Carrefour la..'that' shopping complex i oso never go b4.
Fren : Which one?
Me : Neh..u know wan. I always mention wan.
Fren : Haha..yeah. Angkasapuri rite?
Me : ANGKASAPURI?!? Nabeh, u know where is ANGKASAPURI anot? The RTM news broadcast from there. MUAHHAHAHAHAHhahaahahahhaha....
Fren : OMFG..damn. It's ANGSANA rite?
Me : Yeah. MUAHHAHAHAHAHhahaahahahhaha....

p/s : i'm supposed to end this post with a song that i've recorded. but i simply can't upload the damn song. berjaya upload liao can't embed..GY. now hanging. maybe i'll leave the song for the next post.
3 comments:
2:50 PM
2:53 PM
6:40 PM