Ho ho ho..rupanya Steamboat menang juga..kesian redbox. Good good. So i finally wan blog about my weekend liao.

Our course quite some time didn't meet up liao. I mean gather everyone type. So on this wonderful friday nite(which we were suppose to meet with the fresh-came-in juniors where in the end they ffk'ed us), we decided to have our own SEL gathering instead. It was held at this buffet steamboat place called "Hao Chen" in Tun Aminah.

As usual..bombard with photos la. Enjoy!

Table #1 :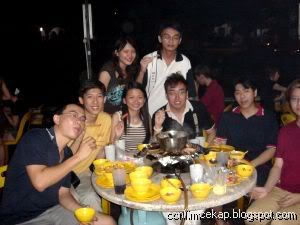 First the photographer potong Ailin's face(right side).

So ma ask take again lor.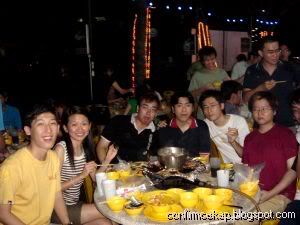 Then now potong SiawHui's face..wakaka. Talented sial.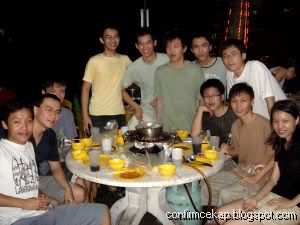 Table #2.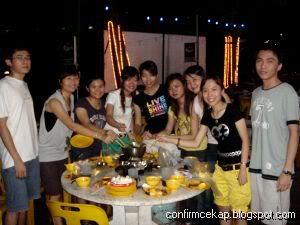 Table #3.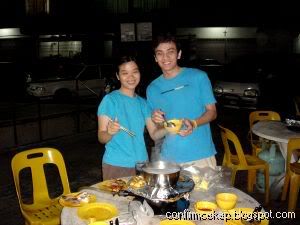 Table #4. Couple's table.

Look wat the couple did..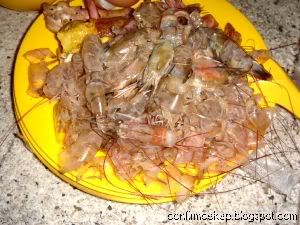 Apa buat with all these prawns? The prawns are your "sat fu sao yan"(Enemy which killed your father) meh? Must eat them all ar?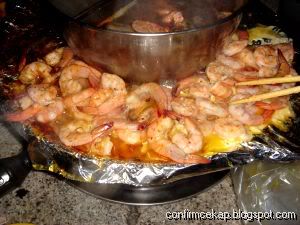 Couple : "Yeah lor =)."

Then YewFatt(with his candid-photo-taking skill as always) berjaya took this..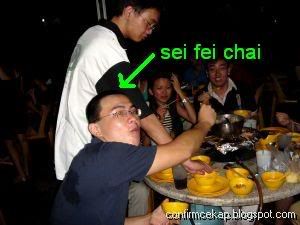 Sorry CheeHoa.

Oh oh..in the end we had cup ice-cream as dessert. SiawHui say each person must eat 5 cups wor. Wat to do..he is SEL "cha fit yan"..dun listen to him yao say "mou yi hei". So ma end up like this lor..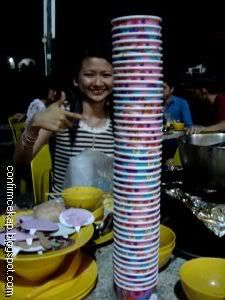 Annie in the background.

Did i say we need eat 5 cups? "Cha fit yan" say he must set good example..so he ate 10. SERIOUS.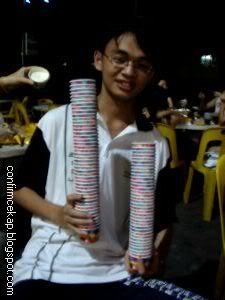 "Mostly contributed by me can?"

With a little bit of creativity..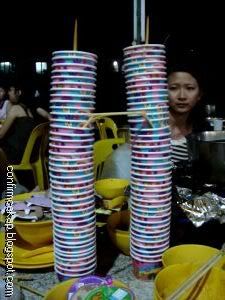 Twin towers..siap with bridge and antenna..chun!



Group photo. Dunno when will have chance eat together in such a big group again. SEL Grad Nite maybe? I wonder..hehe.

Okok..the power part of this post will come out liao.
...
..
.

TADA!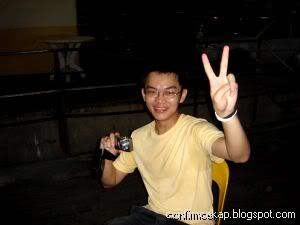 The guy-who-turned-out-to-be-very-yeng-this-sem(according to..ahem..YT) : Mr HockPoh! I duno y..i just love this photo. Love as in not brokeback la. I oredi have brokeback fren liao..the "sei fei chai". U see y..i explain :

"This photo clearly shows that dimension method was used - the left hand is in front thus larger in size. The way he holds the digicam in his right hand shows such professionalism n charisma. The flash on his left palm accentuates the 'V'ictory sign which indirectly means, 'Hey girl..i sat sai u oredi.'"

With that i rest my case.
0 comments: