Small talk : Question of the day : How long does it take for a bus to reach JB from KL. Times up. Answer : 10 HOURS! My housemate hor..the one make joke of ppl's name wan..became "suei of the century ler". 1st hor..boarded bus at 8:30pm..then hor..bus broke down. 2nd bus came..jalan half way..tayar puncit. Need 3rd bus onli can reach JB at 6:30am!!! Ok..i shall keep my mouth clean just to elak from being "suei of the millennium"..haha.

"Uuhhh...syiok!" That is wat i can say after playing futsal for the first time in my life. Near to the place where i am residing now, there's this newly built futsal court(court or field?)..2 courts that is. It is located behind a surau(wow..that's strange)..i oso dunno y. But the 2 is kindaly like managed by the same ppl(i think). U will know what happens when a surau manages a futsal court..hehe. So on this nice evening that's 9pm, 12 ma lat lous..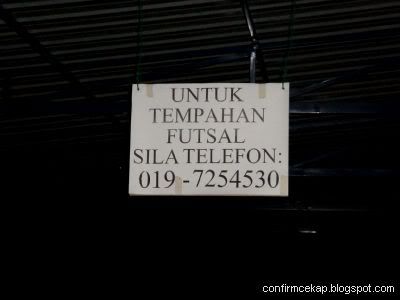 Haha..just in case u wanted to book. Noneed personally go there ok. rm60 an hr by the way. Supposed to be cheap(as i was told), normal price rm80 above wor. Me dunno, me n00b.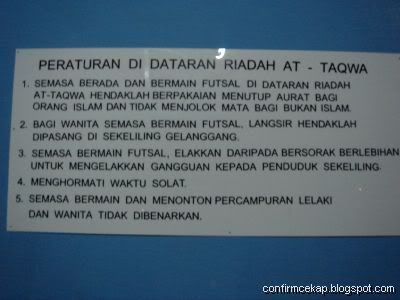 #2 : For women playing futsal, curtains around the court must be closed.
#5 : When playing and watching(wtf?), mixture of men and women is not allowed.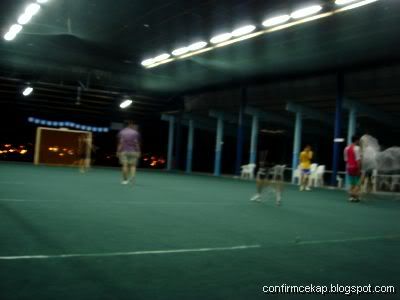 The court.



Aftermath 1.



Aftermath 2. Walau..can sweat like siao lang.

Me scored 1 goal. Looking forward to the next match. CheeHoa, plz dun hurt HockPoh again..hehe.

p/s : Have i told u guys b4? I'm not really good in sports(nor DotA). But i found out that i'm more "talented" in sports that involve direct contact with the ball. For eg volleyball, basketball, and my new found "talent"--futsal. Must take up handball soon..haha.
3 comments:
10:44 PM
1:21 AM
10:26 PM