Alo-the-ha..this is my 99TH POST can?!? AWAIT MY 100TH~~~



Now i is use daily disposable lenses. See the brand above..DUN BUY. The lense too slippery liao..hard to take off from ur eye balls. Should have bought the Johnson & Johnson..but EX ler.

1/3 of my weekend events had been told by jiin but who would mind a repetition rite?

My coursemates/frens WeeVern, CheeSon, and IanCing came up to Klang to find me last weekend ler. Since Jiin's jimui CharngYee was in town so all of us met up for..

BAK KUT TEH

As a Klangite(if there is such a word), i have yet to promote my town's most popular dish in my blog..=(. Anyways, normally if frens from out of town come visit me..sure is bring them go eat bak kut teh wan. This time we went to the the Teluk Pulai (直落玻璃) Bak Kut Teh at the famous Klang "Maybank area" in Taman Rashna.



WeeVern(Penang), ShinJiin(outer space), & CharngYee(Penang).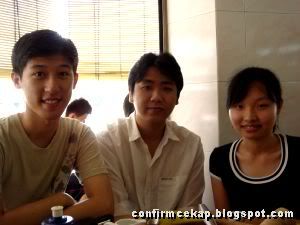 Me(confirm cekap land), CheeSon(Damansara), IanCing(Tampin - border of Negri9 & Malacca).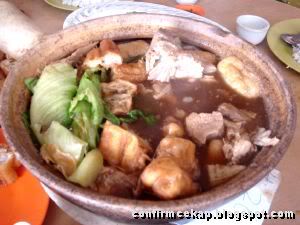 B4.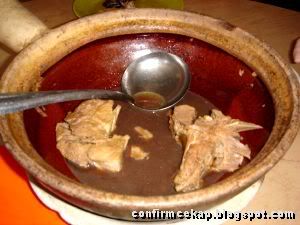 After. Fail.

6 persons ordered 4 persons' amount still can't finish. Maybe becoz IanCing-san doesn't really like pork(coz got smell..fail) whereas ShinJiin(the carnivor) was on diet. Anyways..the Penangites keep complain "Why use plate instead of bowl?", "Why the cup can't make bigger size", etc etc. Very "fan". Fail.

After that(1), we parted with SJ n CY..they went on with their blasted programmes. I would actually like to apologize to WV, CS, n IC for not've been able to provide such programmes..my bad. Oh yeah..back to "After that,"..we went for the movies!

CARS can?



My(and a whole lot of ppl's) favourite character - Guido. He can change 4 tyres faster than u can utter the word "change". Overall it's really a cekap animation ler..go go PIXAR!

After that(2), brought them for "Tong Sui" in Bukit Tinggi. Forgot take photos..fail.

After that(3), brought them for seafood at Telok Gong! Today it's just eat Eat EAT!



Telok Gong's most popular Coconut Flower Restaurant.



I think i should stop doing all this taking photos b4 meal thingy.



I think i should stop doing all this taking photos b4 meal thingy..hehe.

For 4 persons let's have..



Salt chicken.



Fried sotong(or jiin n yin would call it fried calamari).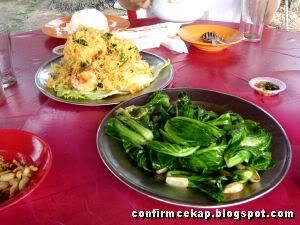 Butter prawns n vege too!

After that(4)..they lepak-ed in my house. We watched a confirm cekap episode of "Qiu Kap Mou Dek Jiong Mun Yan" on national tv(yes i dun have astro) b4 the trio bid me(and Klang) goodbye.

So long, farewell, auf Wiedersehen, good night..

The hills are alive with the sound of music..
Doe, a deer, a female deer; Ray, a drop of golden sun
Edelweiss, Edelweiss; Every morning you greet me..

..and e-quan repeats himself to infinity and beyond.
0 comments: