So i was sleeping on a nice monday afternoon(i mean i was sleeping until monday afternoon) when multiple sms'es woke me up. Thinking : Walau..who so paria so "early" come disturb lau die(ur senior) sleeping. Rupanya is a few good frens sent me these :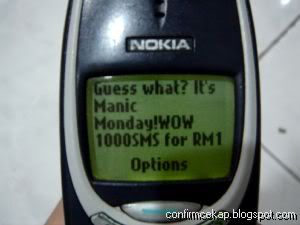 Got anot? Maxis where got so "fut lou" wan? I dun believe.

Then Elaine said,

"No..really one..u dun believe me ar? Try urself la!"

Aiyor..thinking that i might kena chopped so better fast fast register for it. After registering..TAMADE..kena liao.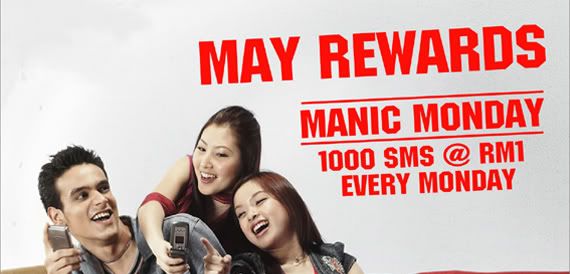 CHEW..onli can use for one day. U can finish 1k sms'es in one day meh?

So today ended up being contact-old-frens-that-u've-never-sms'ed-in-a-thousand-years day. I started sending out massive sms'es to frens in my phonebook n i myself got a few sms'es from frens that i've lost contact. Really ma..RM1.00 can't simple waste..must use till kau kau. In the end..i felt quite useless..becoz :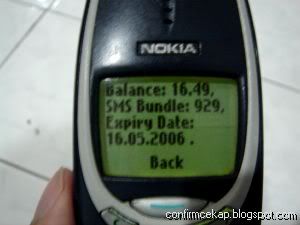 I is managed to finish 71 sms'es onli. Sat bai. =(

Among a "long lost" fren who contacted me is MeiEr aka BeeNgoh. Then i ma asked, "Eh, 1000 sms'es finish liao bor?" U know wat she said?

"Nola..very cha leh..still left 600 plus."

CHAO TURTLE! Used up 400 sms'es still very "cha"?

------

U know..i got a 3-year-old keyboard. Always kena complained by ppl.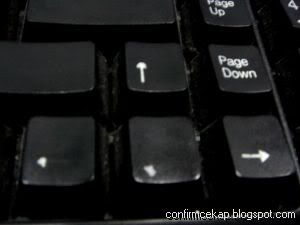 "Oi..u can change ur keyboard anot? All the paint faded liao. Dunno which key is which leh."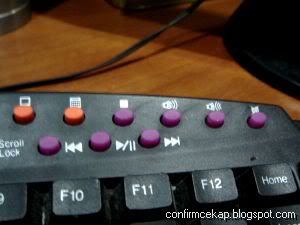 "But but..i like my keyboard..it's black..it has multimedia keys..and it's still functioning. Why must change?"

"CHAO KING KONG! At least do something about it la."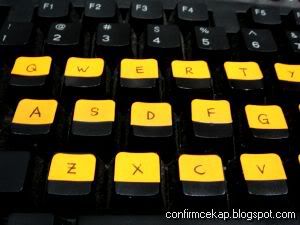 "Oklor..put sticker. =)"

O_o'''
7 comments:
9:50 AM
4:17 PM
8:47 PM
10:25 PM
12:06 PM
12:13 PM
7:02 PM