This is the first time i've submitted a Medical Certificate for work. Note to self : I must do this more I will not do this again.

Elaine came over to visit me on the 20th weekend i n got myself a diarrhoea(cirit-birit, lau-sai). =(. Feel really bad coz couldn't bring her to more places. It got quite bad(u dowan me to describe my shit rite?) on sunday until i needed to see a doctor. Doctor gave mc for monday.



Unfit for proper performance ok?



Must fill in company form oso.

I must say..nowdays doctors are n00bs n blood-suckers. Ooppss..i have more than 10 frens studying medicine now..i is dead. But to the future doctors-to-be..plz dun be n00bs. Focus more on the spirit of helping others than money can? WAH..such a bold sentence from a n00b himself. U know i went to see this clinic doctor..simply examine nia..then gave FIVE medicines..charged rm49! I feel cheated.



For "wind".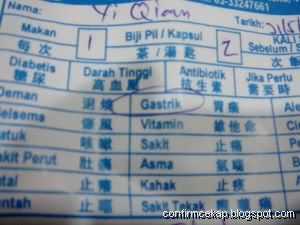 Gastric oso give.



Nurse said, "Kalau lau-sai baru makan".



U say keng anot? Got diff pills for lau-sai n stomachache.



Kaulat..antibiotics oso give. Must finish.

HOWEVER..i must say the lau-sai pill is keng. Eat liao straight stop..cekap. Buthen my stomach still uncomfortable..got alot "wind" inside..if u get wat i mean..hehe..and i've finished my "wind" pills. So this time i went to a pharmacist pula. 2 medicines rm12.



Chinese character for "wind". The pharmacist humourous can?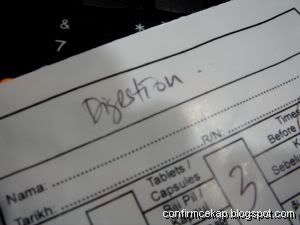 For indigestion.



UNIENZYME. Should be eat more enzymes help me digest the food ler.

THEN on the 27th weekend pula..sick again. This time sore-throat. Seriously should be my working condition ler. Quite hot n sometimes have to sweat alot. I swear..when i woke up in the morning..i seriously couldn't utter a word. Later in the morning i did improve abit but still sound more kaulat than Ah-Du. Damn serious can? This time went chinese pharmacy pula. 1 medicine rm12.



The name is so cute. =P



Okok..read : 3 capsules each time..3 times a day. 3 x 3 = 9 f**king pills a day!



The pill damn big can? Swallow not suck can?

So in 2 weeks i went to a clinic, a pharmacy, n a chinese pharmacy. I've fully recovered now but PLZ..i dowan get sick this weekend.



RM49 + RM12 + RM12 = RM73! I'm very fortunate to have a responsible dad which at the same time knows how to earn money. If not..i couldn't imagine. I've always respected n appreciated him.
Thank GOD.
1 comments:
6:53 PM