Don't u just hate it when ur computer doctor tells u that? Nowdays computer shop technicians all n00bs wan..anything sure say must format. Why? Easy job ma..noneed troubleshoot..just format then reinstall..charge u rm35..nice. So hor..i've come up with this formatting guide so u guys could save some money for doing it DIY. I've formatted numerous coms(mine n my peeps) so i think i'm qualified to write this. HOWEVER..neither E-quan nor confirmcekap should be held responsible if u blow up ur com. Thx.
Oh yeah..this guide is for desktops onli. For laptops..follow the guides given by the supplier.

ATT : Maybe u would like to bookmark this post for future reference(choi! E-quan like wan our com to be spoilt onli..hehe). Click >>here<< to open this post in a new window and press Ctrl+D to bookmark.



First u have to insert an ORIGINAL COPY OF WINDOWS XP PROFESSIONAL CD(which costs around rm600). Remember..support Original..fight against Piracy. =)



Startup ur com and keep jab the "Delete" key to enter BIOS mode.



Play around till u find the "Boot Sequence" option or page. Set the CD/DVD rom as the 1st boot device. Save n restart ur com.



When this appears quickly SLAM ur palm on the keyboard..anywhere on the keyboard will do.



Press "ENTER".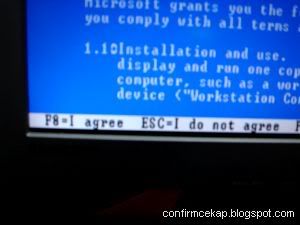 "F8".



"ESC".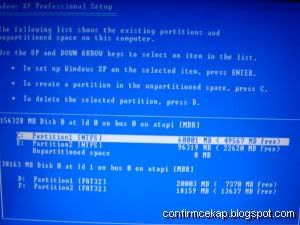 U'll come to this page where it shows how ur hard disk is partitioned. Eh..how come dun have option to "format this drive" one? Dun worry.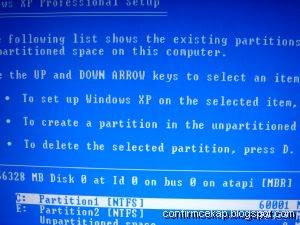 Just say u would like to format C: drive. Choose C: then press "D".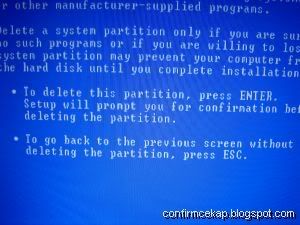 "ENTER".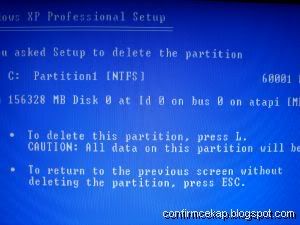 Damn make sure u've selected the correct drive. Press "L".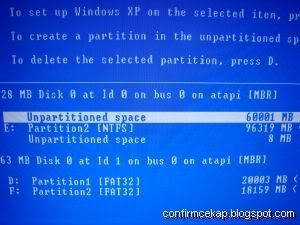 So now u have unpartitioned space. Create partition.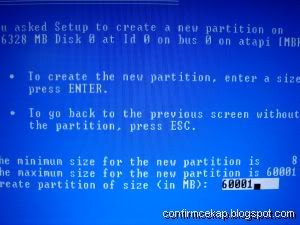 If u do not wan to change ur partition size, pressing "ENTER" will do.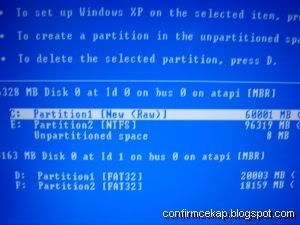 Hurray..ur C: drive is back. But look..it's New(Raw)..like salmon sushi..yum! U'll need to eat(format) it.



Normally u'll have four choices compared to the above. They include :
(a) FAT32 (Quick)
(b) FAT32
(c) NTFS (Quick)
(d) NTFS
Either one will do(google FAT32 & NTFS to learn more about hard disk format suitable for ur com) but for this guide i'll choose NTFS (Quick). So ur C: drive will be formated(takes less than 30 seconds) n ur com will copy some information from ur Windows CD for installation later(takes a few minutes). After it's done..it'll auto restart.



U'll see this screen again..DO NOT DO ANYTHING. If not u've just wasted ur time doing all the previous steps.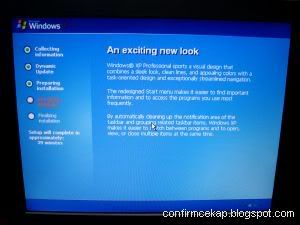 When u see this screen it's a sign of relief. Ur new piece of Windows is being installed.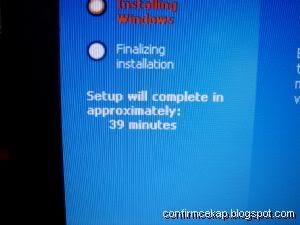 Huiyoh..need 39 minutes. Go bancuh Milo or something. =P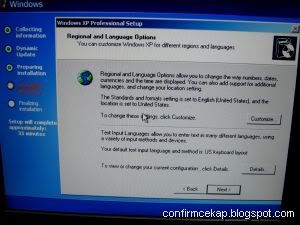 After just a few minutes..u'll be asked to setup something. Just follow the instructions.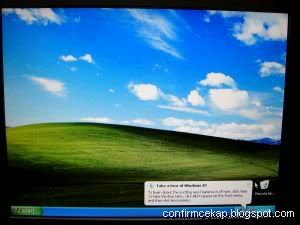 THERE U GO..ur formatted com n new piece of Windows(now u just need to install the drivers..if not no sound, no LAN, etc). I dunno why Microsoft wan put the Recycle Bin onli on the desktop..WHY..very creative meh?

Ok..there goes my guide on formatting hard drive n reinstalling operating system. So next time do it yourself ok? If still wan me format for u i'll be charging rm15..quite reasonable no?
0 comments: