This post is quiet delayed..

March hosts birthdays to my coursemates WeiLing and MeeiFong. (WeiLing and MeeiFong)'s housemates(they live in same house) decided to celebrate with them in Dream On Cafe. Why? Dunno..their house very like the place wan..Annie(oso their housemate)'s bd was also celebrated there..hehe. The place is actually not bad wan(the atmosphere)..just that..the food n drinks cannot make it leh..and it's very expensive..yadda yadda..

(yadda for 10 whole minutes)

..but our main aim is to celebrate their bds ma..so the place is fantastic..nice choice.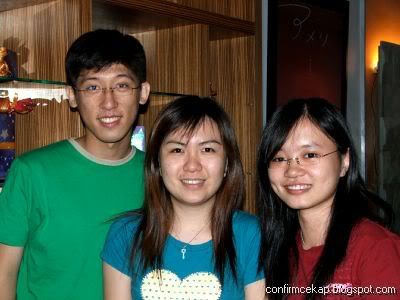 Me, MeeiFong, Elaine. Then is too many ppl liao..every1 fighting to have photos taken with the bd girls..i is not berjaya take with WeiLing leh. =(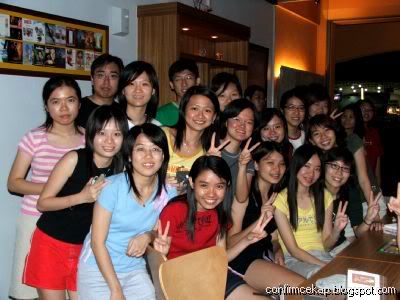 This one is a decent group photo rite? But this kinda photos u all see oso sien liao rite? U all is like i bulat-bulat n write things wan rite? Oklor..so is u all wan me bulat ppl wan ok? Is not i very free n wan go bulat myself ok? Yadda yadda..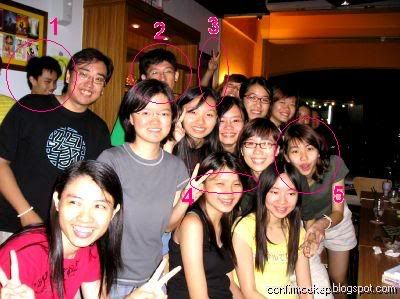 1. I bet ChunJern doesn't even know wat's happening.
2. HuiPing decided to cover my mouth b'coz i yadda too much.
3. B'coz confirm his face can't masuk the photo, so he(dunno who) decided die-die oso have to show at least one of his body parts(hand with victory sign leh).
4. When Adeline smile her eyes like Mashi Maro hor?
5. ...

-------

Below is a self gratifying post(it's a f**king long one too), i highly recommend that u DO NOT READ ON coz after u read liao u might start think that E-quan is a syok-sendiri person n worst still..start sebarkan khabar angin that E-quan is a syok-sendiri person. I is dun likes it.

So on that nite..got 2 girls singing in the cafe leh. One is the main vocalist lor..then another girl is play guitar n sing abit he ying one. The combo very keng leh!

Then is hor, after we sing the bd song to WeiLing n MeeiFong, WeiLing's boyfriend ran up the stage to perform(sing n play guitar okay) Beyond's 喜欢你(Saya suka engkau) to WeiLing leh. It's lam-until-can-die-dot-com.

Then the girls(namely YinTing, HooiMin, MeiYi, and led by bd girl MeeiFong) urged me, yes ME..to go on stage to sing a song leh. WALAO..SIAO MEH?!? Then i mar say "Dowan" lor. Then is MeeiFong use dirty-trick. She ran up on stage to tell the main vocalist to announce that i wan sing a song later..VERY JUET rite? Then hor i feel dun have guy sing for another bd girl, MeeiFong is cannot. So i memberanikan diri ran up on stage n without any shame asked the main vocalist whether i can sing a song later anot. It's under these circumstances that i had my virgin cafe singing experience. =)

Girl #1 = Main vocalist. Girl #2 = Guitarist. Me = me lah!
Girl #1 : So hor..u wan sing wat song ha?
Me : Ah ah..u got wat songs in ur album ha? I can't remember lyrics leh.
Girl #1 : No..u just tell me wat song n who sing 1.
Me : Ah ah..(out of words).
(Me then ran up n down..coz i is very stunned ma..then i forgot i know how to sing who's songs liao.)
Girl #1 : ...
Me : Oh oh..u got the song 王菀之's 我真的受伤了(Saya benar-benar terluka) ar?
(Girl #1 flips album.)
Girl #1 : Yes got got.
Me : Phew(lucky!).
Girl #2 : You is try sing one phrase of the song.
Me : Huh? Okok. "窗外阴天了.."
Girl #1 : The key got very high anot? Try again.
Me : "窗外阴天了.."(<--lower key)
(Girl #2 fondles with her guitar for a while. Say..less than 5seconds.)
Girl #2 : Okliao..u can start sing oredi.
(WALANEH..SHE IS GAWD! JUST LIKE THAT N SHE KNOWS WAT KEY I'M IN AND CAN PLAY THE WHOLE SONG!)
Me : (Use your imagination)
"窗外阴天了
音乐低声了
我的心开始想你了

灯光也暗了
音乐低声了
口中的棉花糖也融化了
窗外阴天了
人是无聊了
我的心开始想你了
电话响起了
你要说话了
还以为你心里对我又想念了
怎么你声音变得冷淡了
是你变了
是你变了

灯光熄灭了
音乐静止了
滴下的眼泪已停不住了
天下起雨了
人是不快乐
我的心真的受伤了

我的心真的受伤了"

(I is very like this song leh..i can be lam-ed to death by it..it has to be 王菀之's version though.)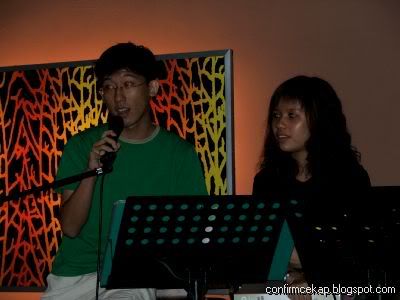 Me n Girl#1.

I tell u..the experience is really GREAT leh(Oklor..thanks YinTing, HooiMin, MeiYi, MeeiFong). It beats singing in KTV like a million times! For me..anything that's LIVE is confirm nice. That's y i like concerts so much.

So now i is need to guest-sing in someone's concert(venue at least like Genting's Arena of Stars la). If i've done that..i can die without regret.
1 comments:
11:49 AM