Small talk : Arsenal drew Real Madrid 0-0(Agr 1-0) at Highbury to qualify into quarter-finals of the Champions League. Watched until 5:45am..luckily win..if not wasted my time. Btw..it's the most exciting goal-less match i've even seen.

FYI, i've been taking Japanese language class like..for 2 years oredi!?!..and at the end of last year(2005), a bunch of us gathered our guts to sit for the widely-recognised Japanese Language Proficiency Test(JLPT) Level 4. Level 4 is for n00bs(like us) where as Level 1 is the highest(professionals). Did i say i've been taking Japanese class for 2 years now?!? I still don't speak any Japanese and the most cekap phrase Elaine n I can manage is "Anata no denwa bangou wa nan ban desuka?"..which means "What's your telephone number?". Yeah..we thought it was important that we knew that just in case we wanted to kauchai/kaului in Japan..hehe.

So rite..the results of the test are supposed to be out early March. All those who took their test in Penang got their results early(all passed..no sweat) while me(took in Kuala Lampar) was waiting eagerly for my Big Envelope(u'll get a small one if u failed..at least that's wat i heard).

Finally..it came(hehe..Big Envelope okay).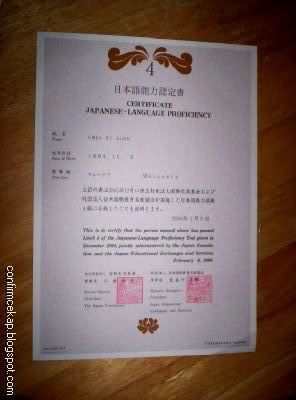 Now i have a Japanese n00b cert..kinda proud actually.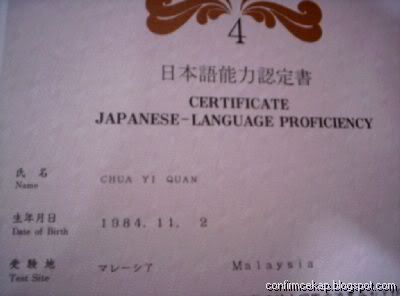 Well..just to prove that i wasn't cheating. Oh..there's a "Date of Birth" too! I mean..i didn't intentionally wanted to show u that but now that u've known..plz remember my present on the 2nd of November..thanks in advance. You're so kind.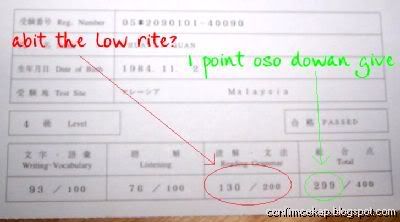 Reading - Grammar : 130/200(damn..cukup n00b). Total : 299/400..one more point would have made it look nicer.

The passing mark for this year is 60% which is 240/400. Okok..i admit..i'm not good at all. My fren YinTing was abit higher than me(i won't say the abit is how much coz i scared kena zham by her later). But hor..you is got pay for extra class n i is ownself study one ok? So overall..I IS BETTER..haha(die die oso wanna win). Elaine got (to be updated)/400!!! Now..a (to be updated)-point difference. I feel intimidated =(.
*Elaine's Big Envelope still hasn't arrived..n my post can't wait liao. So how do i know i'll be intimidated leh? Well..i just know..hehe.

HOWEVER..look :




At least i'm one of the lucky 51.4% who were certified outside of Japan. So..that proves that i'm better than those losers a better n00b than the remaining 48.6%! Try again next year yeah(the test is onli available once a year..the first Sunday of December..worldwide).

All the best!
0 comments: