How cha doin'? It had been a very busy week for me. Repainting the interior of the house. We're using ICI Dulux n man..they really know how to name their paints : Orchid White(white with itsy-bitsy of purple), Forget-Me-Not(blue), Candy Floss(pink)..wahaha! Another subject : We promised to give our sis a special present if she scored straight As for her UPSR n since she did..(tada)..here's the Sony PlayStation 2(slim) for her! Okok..i know it's abit late to get a PS 2(since PS 3 coming out soon)..but heck..we wouldn't be able to afford a brand new PS 3 anyways. This PS 2 with everything..costs slightly above rm800.



Now this is called slim. The console is onli slightly larger than my "Donald Trump : How To Get Rich".



2 Analog(Dual-Shock) controllers.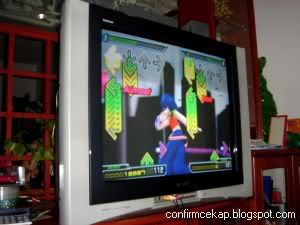 My sis actually wanted the PS 2 b'coz of this game : Dance Dance Revolution Extreme 2. Yeah yeah..we bought the dancing mat for her too.



Pro Evolution Soccer 5 : See my idol Thierry Henry coming out from the tunnel.



Van Persie passes to Henry and he scores!



Pires taking a penalty against Peter Cech.

Haha..i must tell u..soccer games never fail to entertain u. Too bad my hols are ending real soon..can't play much liao. "Ok..coming coming!"..sorry guys..it's my turn to "dance" now..gotta go.
0 comments: